Building A First Aid Kit Perfect for Camping and Travel
Disclaimer: Some links in this post contain affiliate links and we will receive a small commission if you make a purchase after clicking on our links. As always, we only recommend products that we trust and love.
Recently we were on a hike and came across a 5 ft copperhead sunbathing on our path. Now obviously this wasn't the first poisonous snake we've crossed on our treks nor will it be our last, but at the time of this particular incident, we didn't have our camping first aid kit.
After safely getting around the snake, we started to reflect on what would have happened had one of us gotten bit considering we were quite a few miles away from our vehicle and had limited cell service. We also realized that others, like us, may go hiking or camping unprepared or underprepared for medical emergencies. So, we made a list of everything you need (plus a few extras) to help DIY your hiking, traveling, and camping first aid kit.
---
Treating & Cleaning Wounds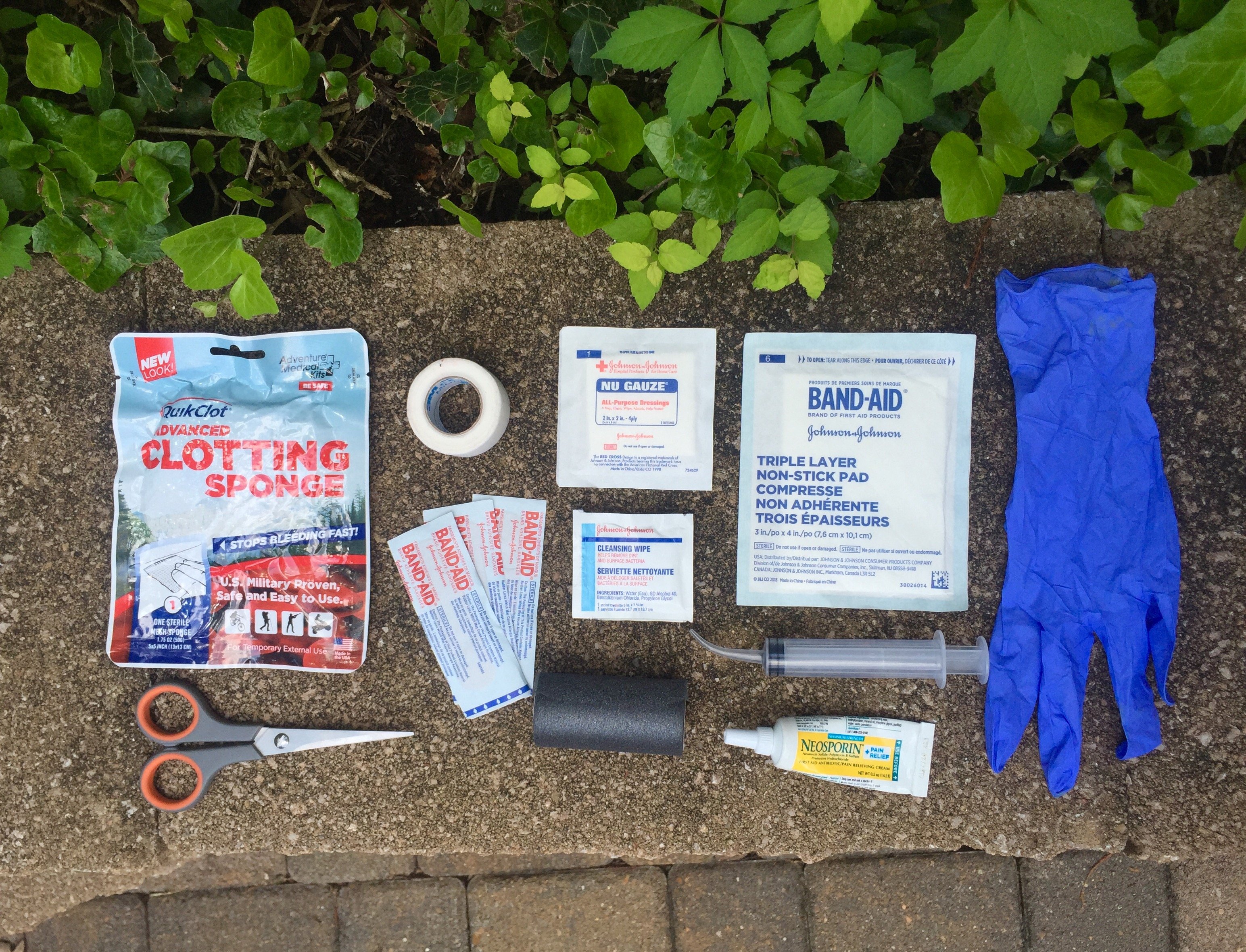 Sterile dressing pads: Helpful for larger cuts or scrapes that can't be covered by the typical bandage. ($4)
Gauze: To keep the sterile dressing pad in place. ($5)
Adhesive first aid tape: To keep the gauze wrapped up tightly. ($5)
Adhesive bandages: Obviously this one seems like a no-brainer, but it's important to carry an assortment of various sizes for blisters, small scrapes, and cuts. ($5)
Scissors: For cutting and resizing any bandages, but these could also be helpful in cutting clothes in emergency situations. ($6)
Antiseptic Towelettes: These are essential when needing to clean a wound before dressing. ($2.50)
Antibiotic Ointment: In order to help a wound heal and provide minor pain relief. ($5)
Irrigation Syringe: To help clean out wounds. ($3)
Quikclot Sponge: An antihemorrhagic/hemostatic agent that helps promote clotting and prevent bleeding. A little more effective for more profound bleeds than basic gauze. ($16)
SAM Splint: Should someone, unfortunately, sprain, break, or fracture a bone this will do the trick in order to help that person seek proper medical attention. It can easily be cut or molded to fit any bone on the human body. ($10)
---
Over-the-Counter Medications
Ibuprofen* (Advil): Fast-acting relief of minor pain, inflammation, and fever.
Aspirin: Blood thinner and NSAID – helps reduce pain, inflammation, and fever.
Loratadine* (Claritin):  A non-drowsy option for seasonal allergies.
Diphenhydramine* (Benadryl): For acute allergic reactions.
Loperamide* (Imodium): anti-diarrheal (who wants to deal with that on a trip? Yeah.. not us either!)
Tums: Antacids for heartburn relief and soothing stomach aches.
Dramamine: An antiemetic (aids against vomiting and nausea) or used commonly for motion-sickness.
Hydrocortizone Cream: A steroid cream that helps alleviate inflammation and itchy rashes.
Biofreeze: Helps alleviate muscle soreness after a day of hiking.
You can also purchase small ziplock bags for space saving.
---
Eye Essentials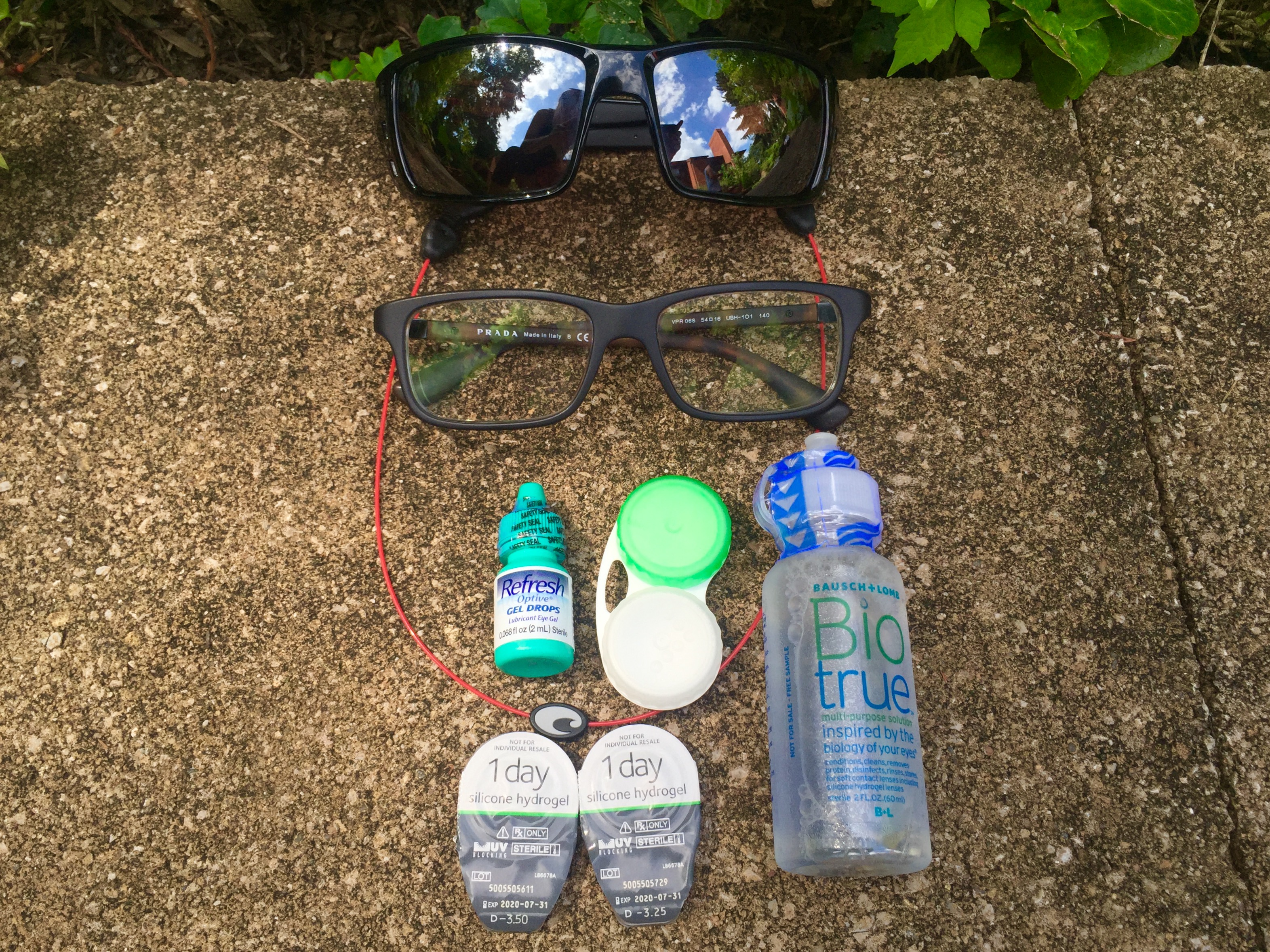 Of course with me being an Optometrist I had to write a section about your ocular health on an adventure, hard to enjoy the views without healthy eyes!
Glasses: While this may seem like a no-brainer to those who wear glasses all the time, there is a good majority of people who only wear contact lenses. Having a backup pair of glasses in a sturdy case can be a lifesaver if you lose your contact lenses, break your full-time spectacles, or heaven forbid get lost for an extended amount of time.
Extra Contact Lenses: Along the side of having a backup pair of glasses, it is always a good idea to bring extra contact lenses while you are traveling. They do occasionally get lost, torn, or need to be replaced on your trip. Always replace your contacts on their proper schedule, because complications can occur like bacterial keratitis, which can cause permanent vision loss. Plus, no one enjoys an interrupted trip by having to make an emergency visit to the optometrist!
Refresh Eye Drops: Eye drops are great for travel, especially for those who are hiking and outdoors. Dryness and redness can occur due to coming in contact with wind, dirt, or other allergens in the air. Refresh are a great choice and can provide comfort throughout your day. ($10-18)
Travel Tip: Avoid taking too much (or really any) Visine to cure any redness on your trip. Overuse of Visine can cause rebound redness which may make you more uncomfortable than when you started!
Contact Solution and Case: For anyone wearing contact lenses, don't forget to bring solution and a case!
Travel Tip: Next time you visit your optometrist, ask for a new contact lens solution sample! These smaller bottles are great to keep in your kit and don't take up much space.
Sunglasses: I always take my Costa sunglasses with me when we travel. Not only is it more comfortable on sunny days, but these polarized lenses are also awesome for fishing and kayaking! Always check and make sure your lenses have UVA and UVB protection, which can be found even on reasonably priced frames.
---
Tools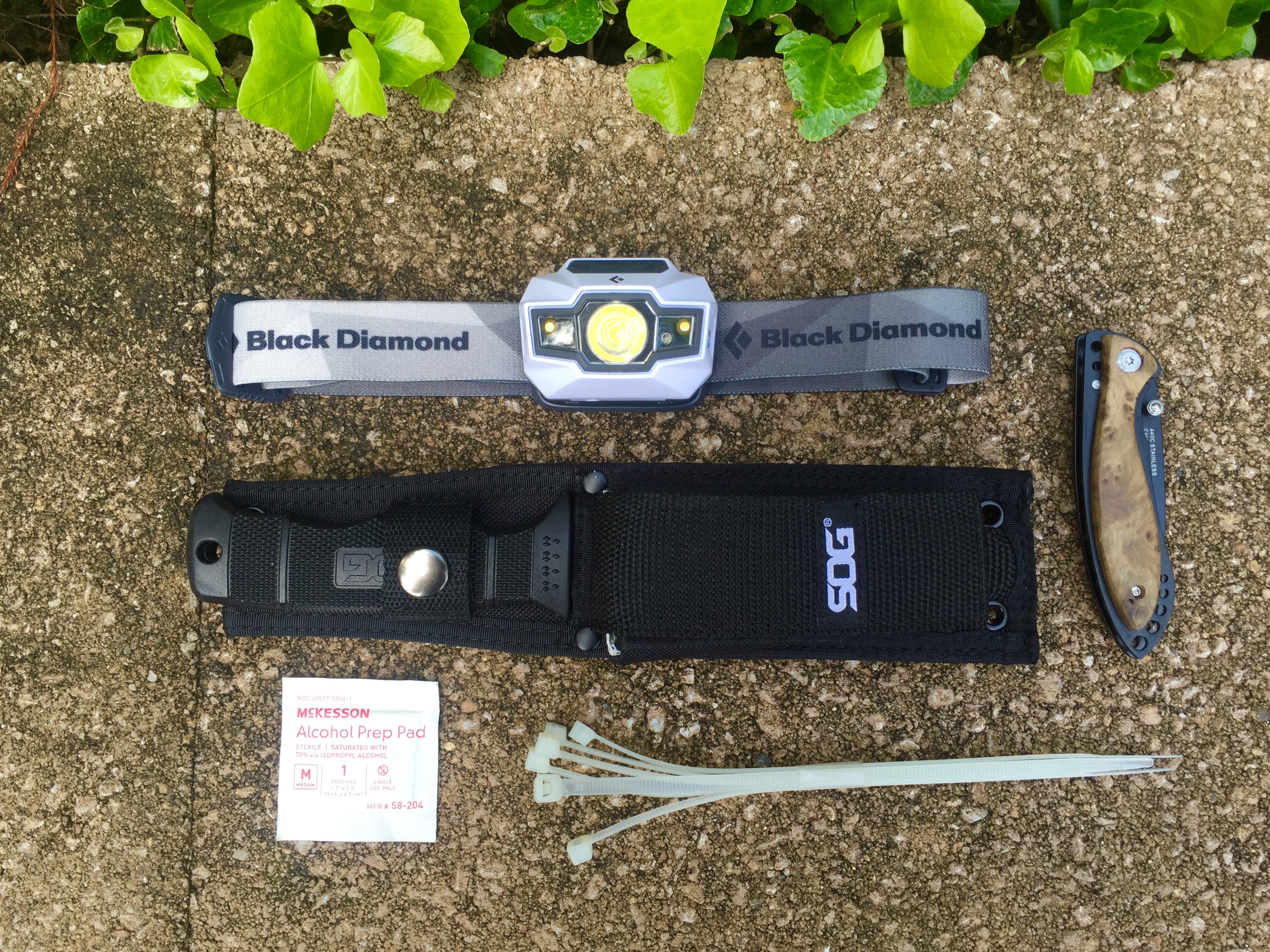 Tweezers: Remove splinters and debris from cuts/scrapes.
Alcohol Swabs: Used to sterilize tools and wounds.

Tick Twister: This is pretty self-explanatory but this is a handy way to easily remove ticks of all sizes ($6)

Fixed blade knife: A fixed blade, better known as full tang, is vital for any emergency kit of any kind. A strong full tang knife won't collapse like a folding knife, which can result in further harm. Full tang knives are great for survival needs such as digging or cutting small branches and are great for your first aid kit to cut bandages, or trim a splint.
We prefer the SOG Seal Pup ($37) due to its lifetime warranty, GRN diamond pattern handle, and durability.
Zip Ties: Good multiple uses in an emergency, keep a few of these in your travel and camping first aid kit
Headlamp: Whether it be camping, hiking, spelunking, or finding your way around in the dark, whatever the reason a headlamp is a must.
We prefer the Black Diamond Storm because it has many great capabilities:
Black Diamond Storm (1) (older version $38.95)
-Light Output: high 160 lumens, low: 4 lumens
-Bulbs: High-output LED, 2 LEDs, 2 red LEDs
-Beam Type: Flood/Spot
-Max Beam Distance: 70 meters
-Strobes: 3
-Batteries: 4 AAA
-Average Run Time: high: 36, low: 200 hours
-Red light mode
-Regulated output
Black Diamond Storm (2) (newer version $49.95)
-Light Output: high: 250 lumens, low: 60 lumens
-Bulbs: 2 white LED, 1 red LED, 1 green LED
-Beam Type: Flood/Spot
-Max Beam Distance: 80 meters
-Strobes: 3
-Batteries: 4 AAA
-Average Run Time: high: 60, low: 150 hours
-Red light mode
-Regulated output
---
Fire Starting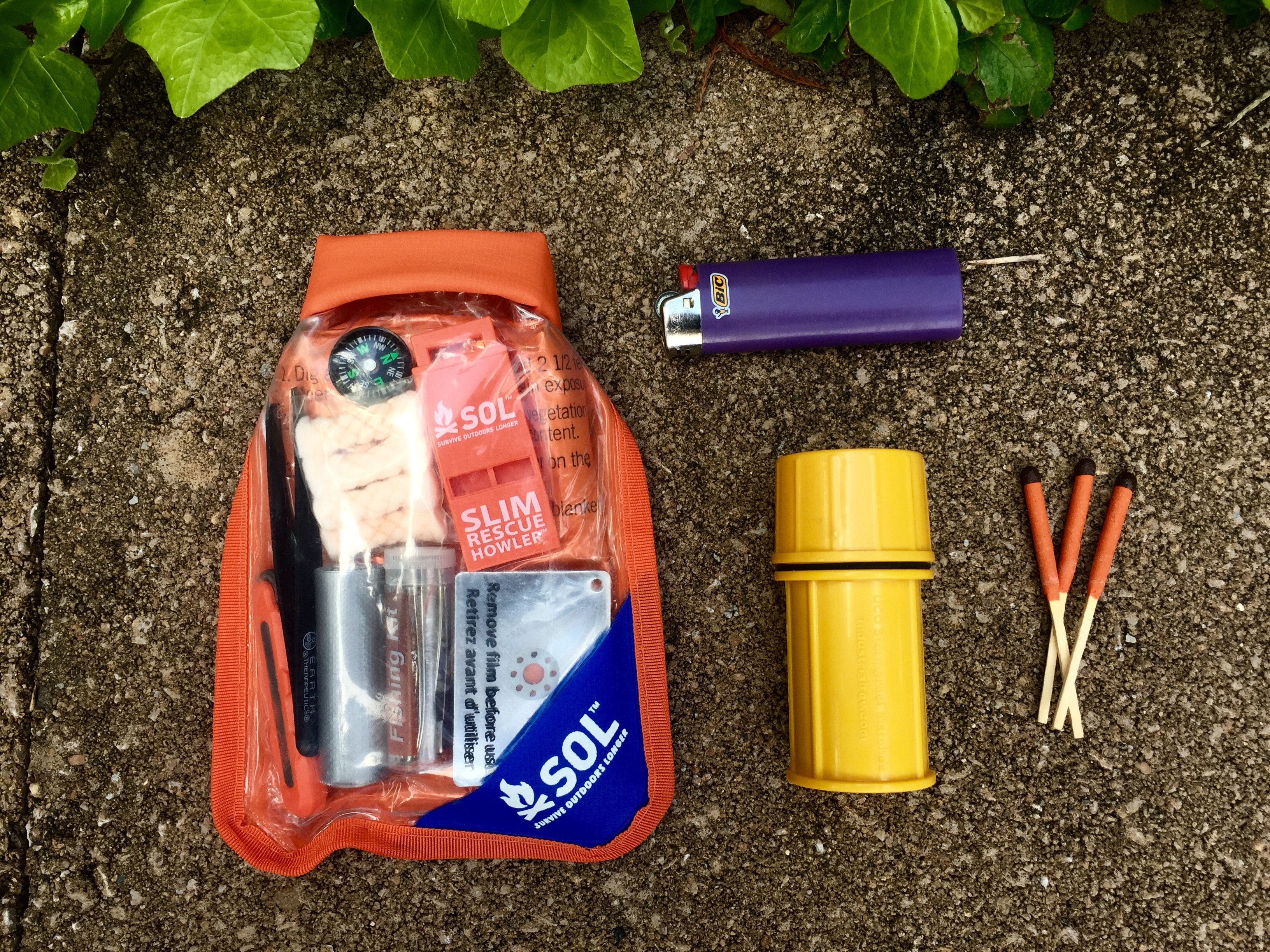 BIC Lighter: BIC has always made a cost friendly, reliable lighter that is easy to pack and carry. ($6/3pk)
Flint (Fire Starter): While it is easier to just pack and use a lighter or matches, a flint is handy in case a lighter is faulty. ($7.50)
Waterproof matches: These matches will light even in some of the harshest windy and rainy conditions not to mention they can be stored in a watertight tube. ($8)
Waterproof Quick Tinder: To help your fire start more quickly. ($5/10pk)
---
Communication

Cell phone: While you may not always have service, it's always a good idea to carry a cell phone for emergencies.
Whistle: No cell signal? A whistle can be handy for a distress call or to find others when lost ($2)
Extra batteries: If any of your equipment that requires batteries (i.e. headlamps) it is best to carry a few extra sets. (around $4)
Portable power bank: We love our portable power banks for charging our electronics on the go but this portable power bank can also a lifeline when needing to charge your cell phone or other accessories. ($25-40)
Compass: The original navigation tool, always great to have in an emergency. Familiarize yourself with how to use it, and grab a map before you hit the road as well.
Weather Radio: A portable weather radio is good for keeping updated on potential storms and flash flooding.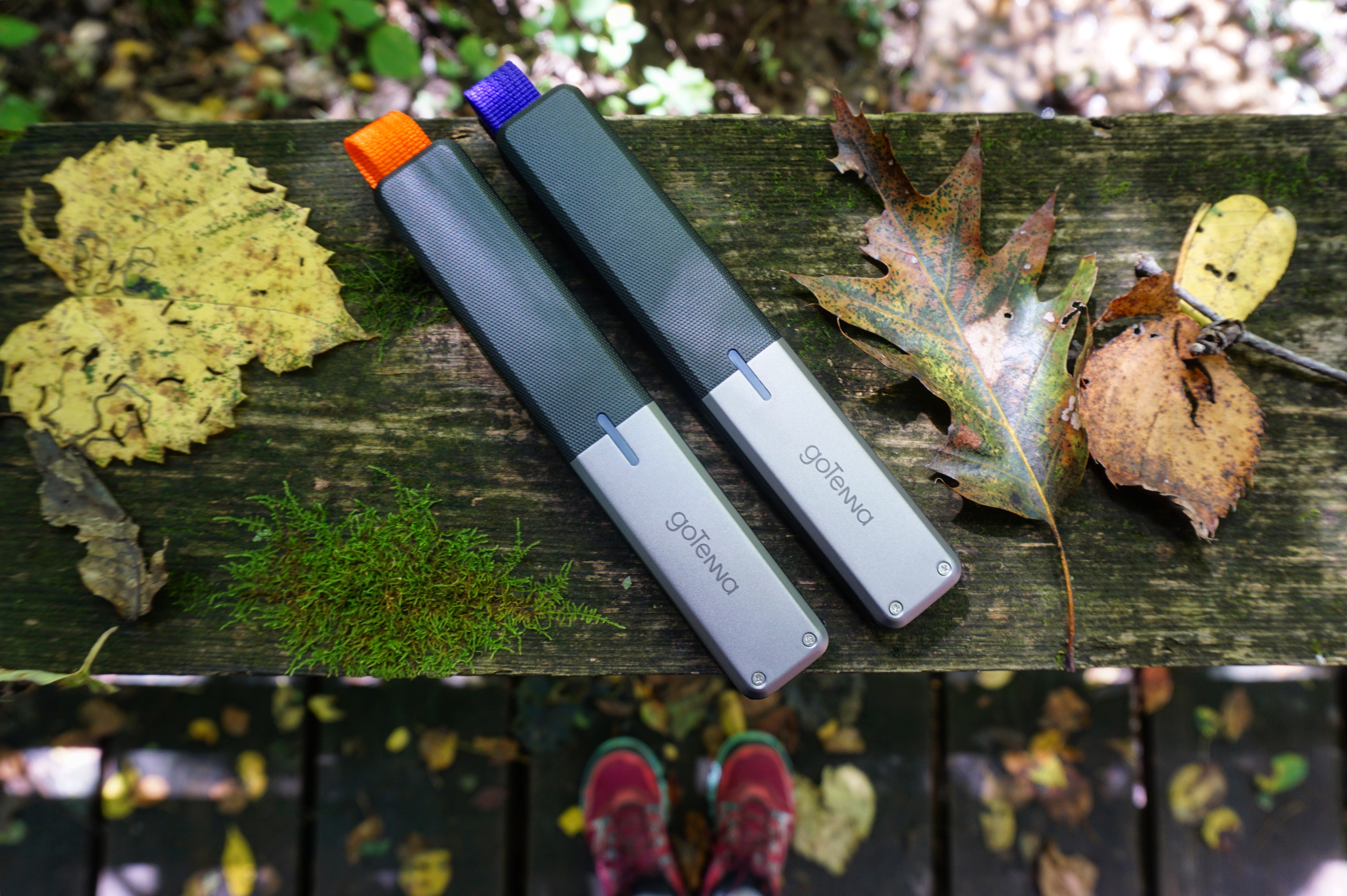 GoTenna: This device pairs with your smartphone via Bluetooth and allows you to communicate by text message and GPS location to others without a cell signal. It also allows you to download maps to any country and use GPS without service. This is a must have for going off the grid and especially important for your camping first aid kit. ($149/set of 2)
---
Other Essentials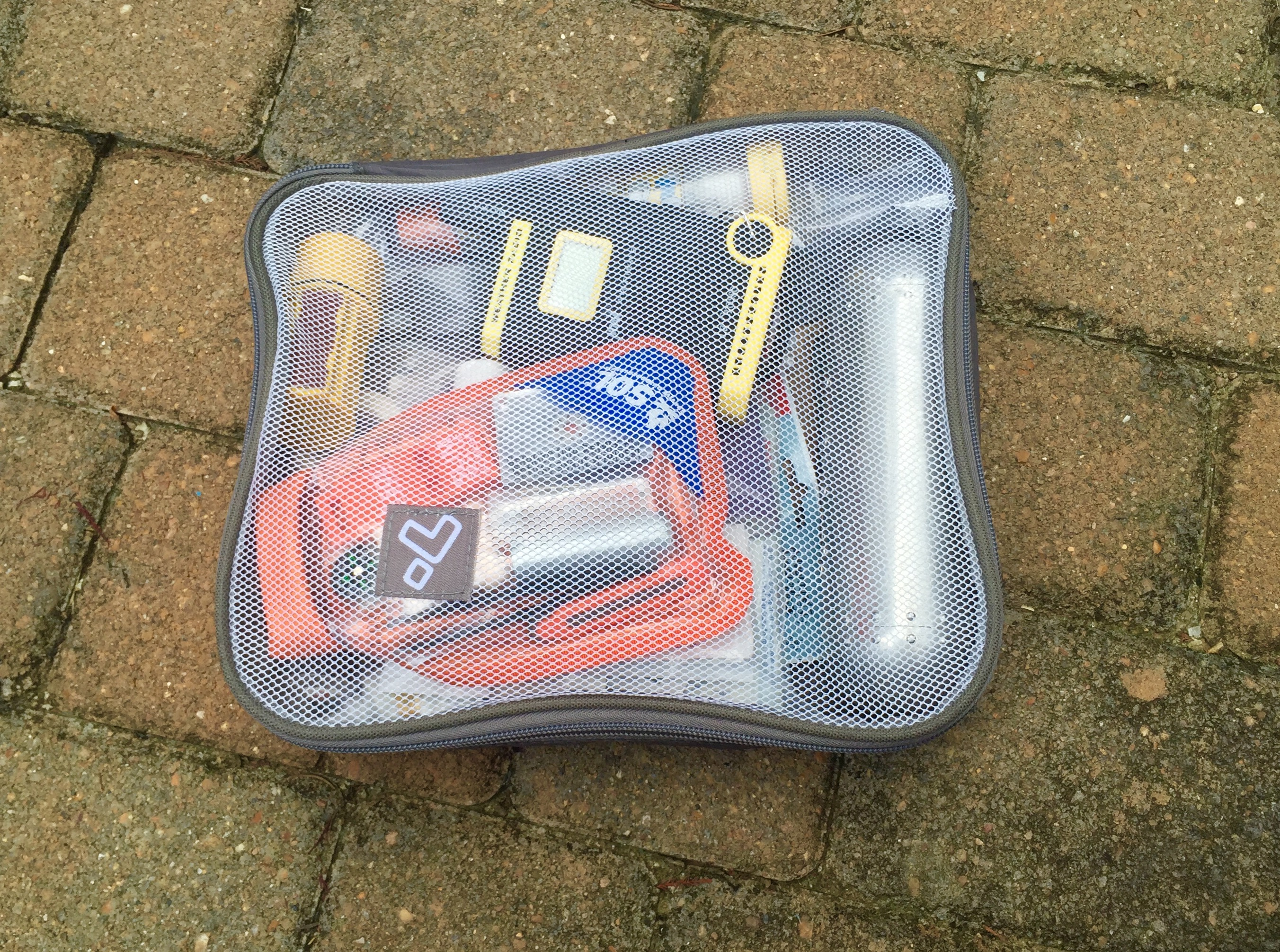 Hand sanitizer: for obvious cleaning reasons of your hands or elsewhere, but also for the use of fire starting and cleaning material.
Storage bag: Of course you'll need something to store all of these items in we utilize Ziplock bags to easily access each item and put them inside a TravelOn packing cube (size small: 10.5 x 8.5 x 2.5). Storage zip bags are also great for keeping things dry if an unexpected rain storm pops up.
---
Other Items to Consider for your Travel & Camping First Aid Kit
Emergency Blanket: This helps retain body heat in emergency cold conditions and can also help prevent post-accident shock. ($5)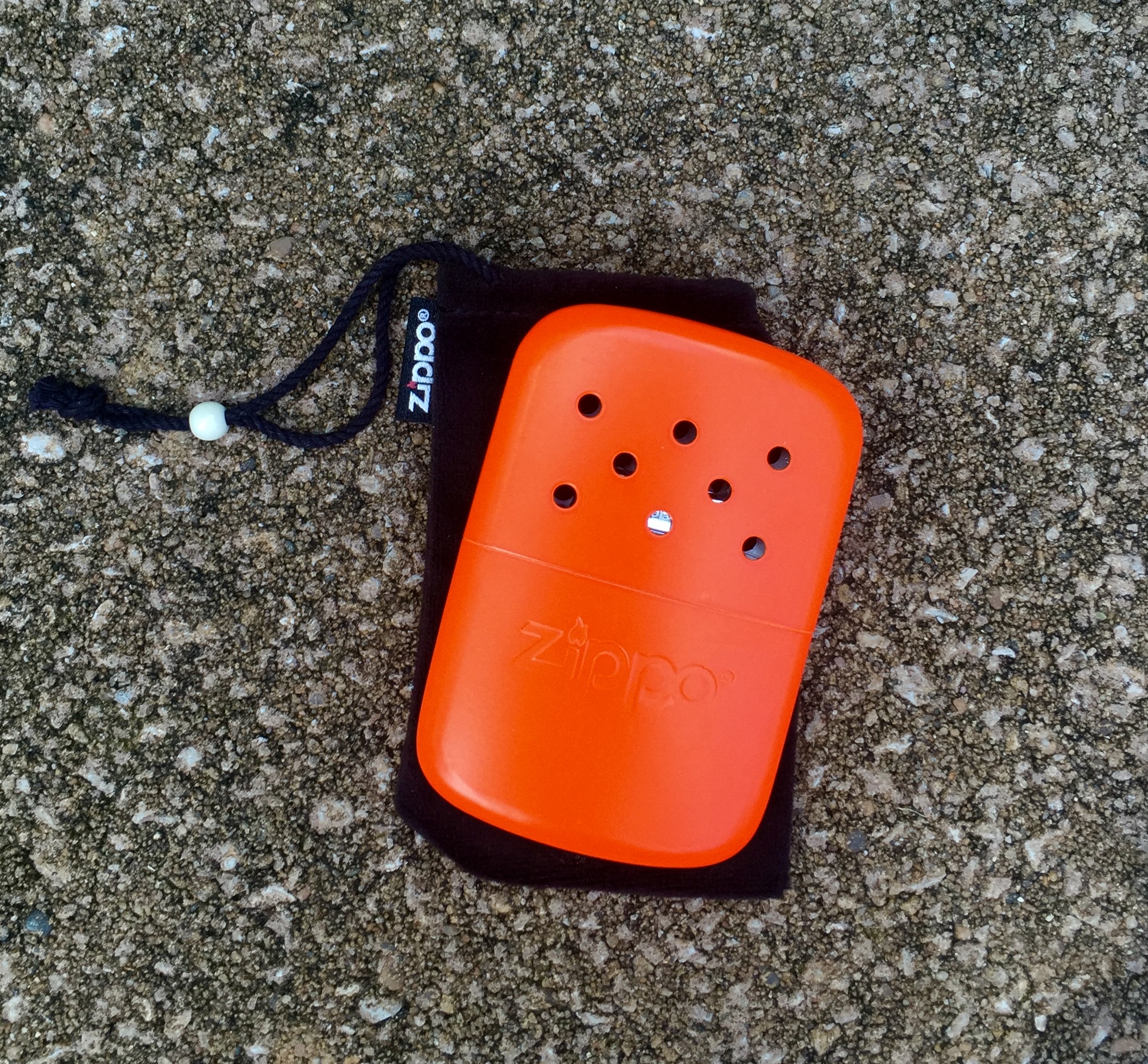 Zippo Hand Warmer: If you're going to be somewhere cold it wouldn't hurt to purchase one of these flameless hand warmers, available in a 6 hr or 12 hr option. ($13)
---
Q&A
Does all of this extra gear in your travel and camping first aid kit weigh a lot?
This was one of our main questions so we decided to weigh it all together. We came up with a total weight of 2.5lbs without the glasses, sunglasses, and cell phone. We guess it would be anywhere from 2.5-3lbs with these items.
Does this travel and camping first aid kit take up a lot of space?  
We don't think so! But we are willing to save space for this kit in order to ensure our safety. We are able to fit all of our first aid kit items in a small TravelOn packing cube (dimensions: 10.5 x 8.5 x 2.5)
Where do you find these products for your travel and camping first aid kit?
We purchased the majority of these items at Amazon.com, REI,  and BackCountry. We also tried to link as many of these items as we could above (including the best prices we found) for your convenience.
---
Are there any other items you feel like we missed? Other questions we could answer? How important is having a suitable travel, hiking, and camping first aid kit to you?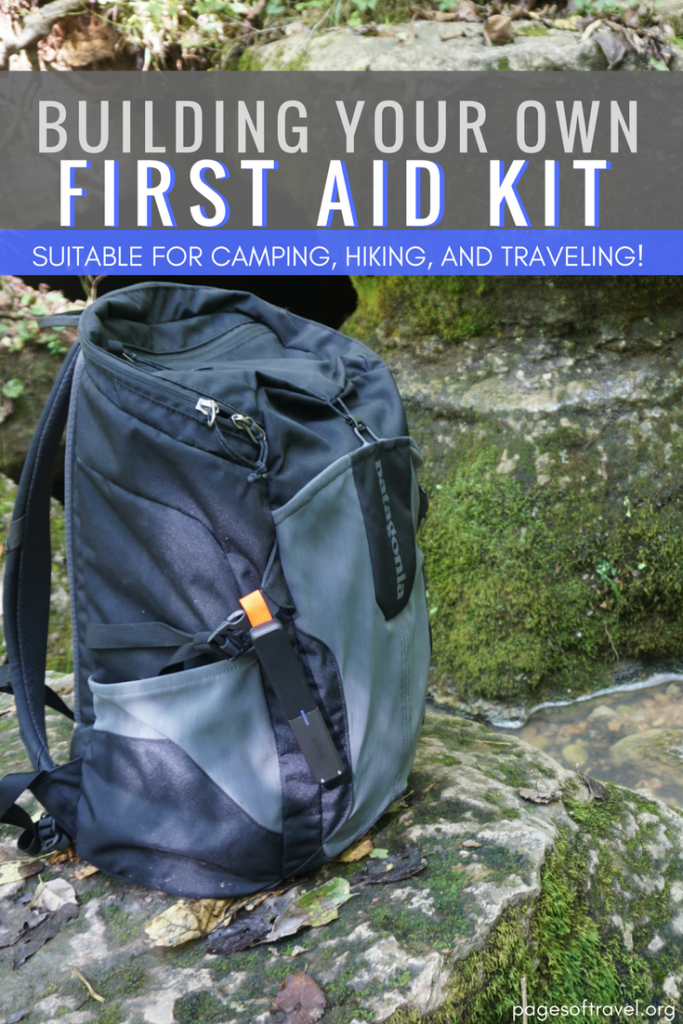 *** NOTICE: We are not physicians and do not recommend self-diagnosis or treatment. We are not liable for any morbidity or mortality that results due to declining professional care and attempting treatment as denoted in this blog. Always call 911 in case of any emergency, and discuss any and all new medications (even over the counter) with your physician before taking. For more information read our disclaimer here.***