Visiting Cummins Falls State Park
In the tiny town of Cookeville, Tennessee you'll find Cummins Falls State Park and inside the park, a breathtaking waterfall. Cummins Falls is Tennessee's eighth largest waterfall and is a whopping 75 feet high.
It took us HOURS to find Cummins Falls in Cummins Falls State Park. Mostly because there isn't a man-made trail that leads you the entire way and we turned back a few times because we were both conflicted on if we were heading in the right direction. After wading through waist-deep, ice cold, water and walking for a short distance more, we finally made it to Cummins Falls.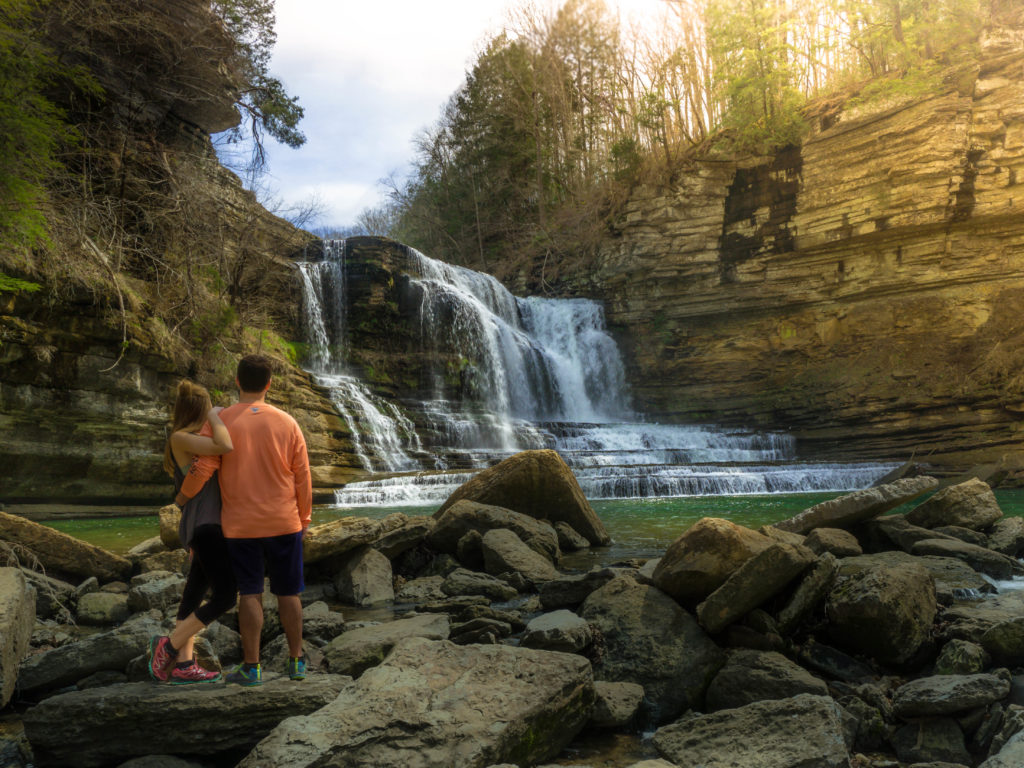 How to Get to the Falls at Cummins Falls State Park
We took the Blackburn Fork River Trail (0.55 mi/one-way) to the bottom of the Blackburn Fork River. From there you will take a left and follow the river until you reach Cummins Falls.There is steep and rugged terrain throughout your entire journey to the falls, therefore, it can be hard to get there. It can only be reached by walking and at times, wading through the river. You WILL get wet so keep that in mind and have an extra change of clothes since the water is chilly. Overall the journey is about 1.5 miles. No, it shouldn't take you nearly as long as it took us!
SAFETY TIPS
Cummins Falls
Be aware of the weather. Heavy rainfall can lead to flash flooding in which you should seek higher ground immediately.
If you are planning to go swimming at the falls, you might consider bringing a life jacket.
Wear sturdy shoes. This is especially important as the rocks are very slippery. Sandals and flip-flops are NOT a good shoe choice. Instead, wear hiking shoes or a pair of sturdy tennis shoes that you don't mind getting wet.
Alcohol and pool floats are not allowed at the park.
Dogs are welcome at Cummins Falls State Park but they must be on a leash.
Check the water level before you go. Looking back, swimming and wading through water that deep was not a smart decision. Cold water can be fatal at times and we could have easily been knocked over or fallen due to the slippery rocks. Use caution when swimming in streams or rivers and try not to wade in water that is higher than your knees.
Other Information About Cummins Falls State Park
This park is a perfect stop for those traveling east to the Great Smoky Mountains or west to Nashville.
Hours: 8am-6pm, the gorge area closes at 5pm
Address: 390 Cummins Falls Lane Cookeville, Tennessee 38501
Click here for a printable map of Cummins Falls State Park
---
Sometimes the best things in life you gotta try a little harder for.
What have you kept pursuing that was worth it in the end?