Experiencing Menbakaichidai, Kyoto Fire Ramen
Prepare To Be Lit!
As most know, Ramen is a dish that can be found all over Japan. Unlike the packages that you can get at the grocery stores in the United States – ramen in Japan is quite fresh, savory, and delicious! Each region in Japan has their own style of ramen and it can even vary from restaurant to restaurant in a city. Before arriving in Kyoto, Japan we had heard rumors of a ramen restaurant that gave their customers a unique experience while dining and it involved FIRE! When we first arrived at Menbakaichidai, Kyoto fire ramen, we weren't quite sure what to expect. We were asked if we wanted fire ramen, or regular ramen when we entered and of course, we went with the Kyoto fire ramen and boy… it did not disappoint!
We were seated at the counter of the small, yet cozy restaurant that is located close to Nijo Castle. We were asked to put our belongings in the baskets that were strategically placed below our seats. Miyazawa-san proceeded to be the perfect host as he joked with us and began to put on a show while preparing our food.
After the initial preparations were made, Miyazawa-san saw us get out our phones to record the heated production that was about to take place. He quickly motioned for our phones and placed them on a selfie stick behind him in the kitchen and started to record our video of the flaming fire ramen!
Safety Tips:
If you have long hair you will be asked to pull it back in a ponytail.
Make sure you keep all parts of your body behind the counter as they are preparing your dish. We are playing with fire after all! 😉
If you'd like to record your experience at Menbakaichidai have no fear! They have created the perfect way to do so and you'll never be more thankful for a selfie-stick.
When we finally had the opportunity to eat our dish, we were completely blown away. The combination of pork, green onion, noodle, and the broth had us feeling like we had gone to ramen heaven. Needless to say, Kyoto fire ramen is unlike any other ramen shops for the experience and the taste too!
---
Who Wore It Better?!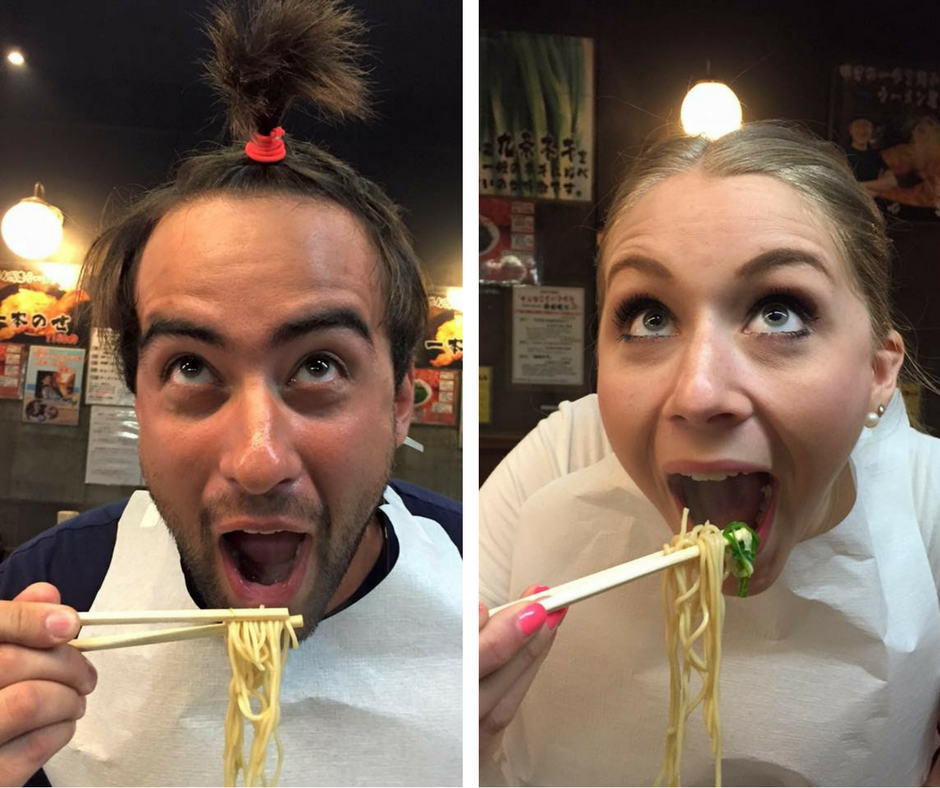 Think you'd like to try Menbakaichidai, Kyoto fire ramen while in Japan? Here is some useful information:
At this time, they do not take reservations. Be sure to show up early if you'd like to ensure you get a seat at the counter!
Kyoto Fire Ramen has a seafood based broth. However, they do offer fried rice for those who are vegetarian or a vegetable soup option as well. They also have Halal-friendly ramen for all guests who do not eat pork.
Allergen Information: Egg, Wheat, Mackerel, Chicken, Pork
Menbakaichidai Menu
Hours: 11:30am-11:00pm
Address: 757-2, Minamiiseyacho, Kamigyo-ku, Kyoto-Shi, Kyoto, 602-8153, Japan
---
If you're looking for the perfect place to grab a bowl of ramen in Kyoto, this is your spot. Make sure to say hi to Miyazawa-san for us when you go!