What to do in Branson, Missouri
Growing up both of us spent a fair amount of time in family-friendly and affordable Branson, Missouri. We decided that while Branson isn't a big city, it can still be overwhelming trying to find places to stay, things to do, and restaurants to eat at. We thought it would be helpful to combine our experiences in Branson for an overall helpful "cheat sheet to Branson tourism."
---
Accommodations in Branson
LUXURY
Located right on the Branson Landing this hotel is convenient and beautiful to stay at!
Cost: starting at $129/night
This is by far our favorite place to stay while in the Branson area due to the location and amenities it has to offer. Big Cedar has a wide variety of accommodations and we have yet to stay in all of them. A more cost-friendly option is to stay at the Big Cedar Wilderness Club. These are timeshare properties but let us be clear, we do not own one. We often find deals on eBay from people renting out their property.
To learn more about Big Cedar check out our post here.
For those who prefer a scenic drive and incredible service, visit the Chateau. You are treated like royalty from the moment you arrive!
Cost: starting at $139/night through their website or $129/night through TripAdvisor.
Also a timeshare property and you'll love how close it is to all of the Branson activities. It was really terrific for the price and had two bedrooms and a loft (essential when staying with larger parties).
Cost: starting at $139/night
BUDGET
Check out this budget hotel when looking to book for a large party or large family.
Cost: starting at $59/night
While this is definitely not the most glamorous of places – it is clean, and perfect if you are needing something affordable on the strip.
Cost: Starting at $45/night
---
Dining in Branson
FINE DINING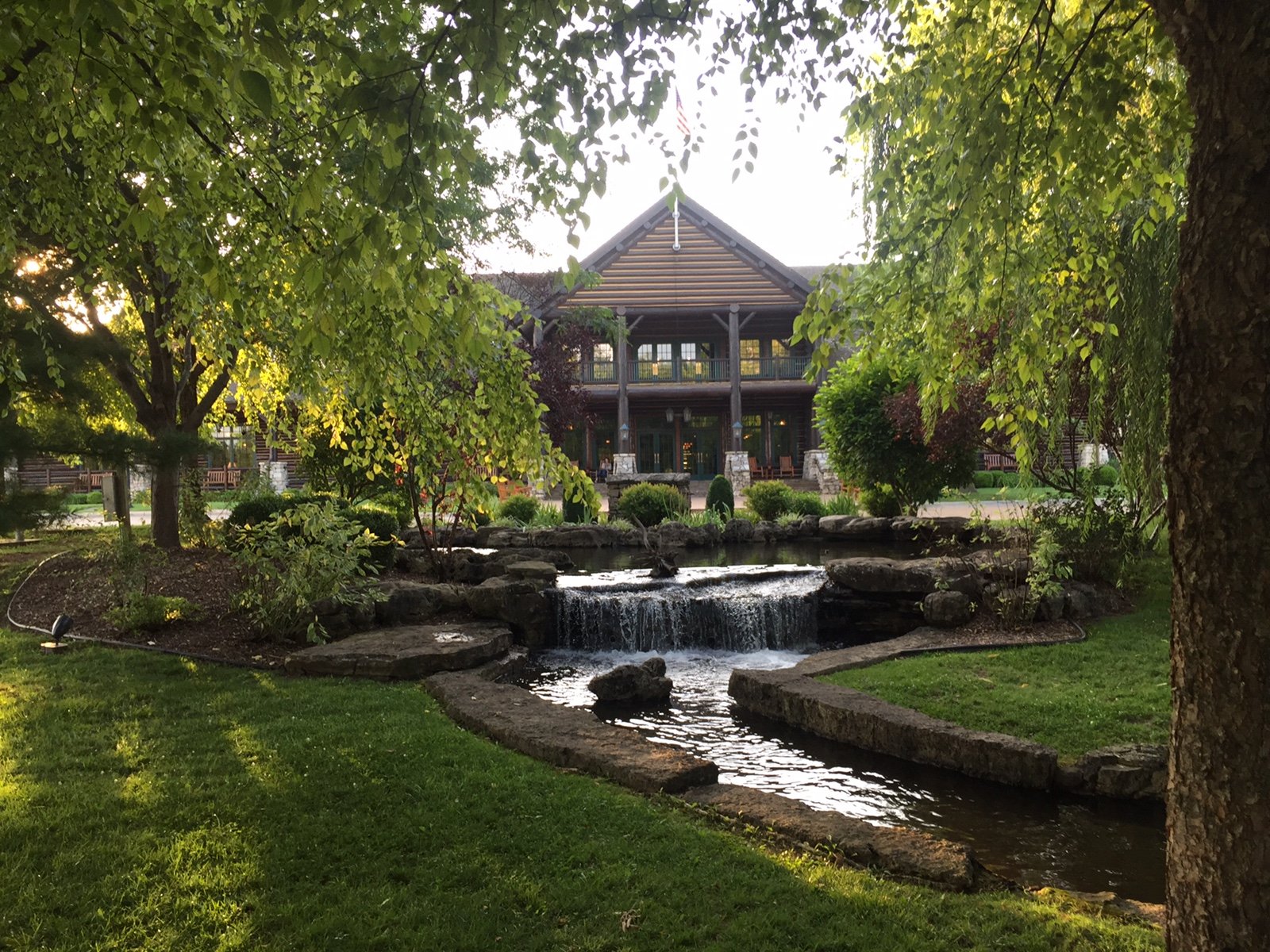 Located at the College of the Ozarks, this restaurant is incredibly unique. Everything is student-run, meaning the staff at the restaurant are current students at the College of the Ozarks. Even cooler, all of the food is from student-operated farms!
Recommendations: Pulled Pork BBQ Mac & Cheese, Catfish Almandine,  and polish it off with their fresh chocolate cake for dessert (be careful, it's HUGE). Please note their menu changes seasonally.
A bit more upscale dining that is perfect for couples or large parties. We were surprised that the seafood seemed so fresh being in southern Missouri.
Recommendations: Snapper Hemingway or the snow crab legs
Location: off of the main Branson strip
---
CASUAL DINING
Recommendations: Try the Combo Plate and pick two types of meat. Let it also be known that the Memphis rolls are to die for and better yet if you love them as much as I did you can buy a dozen for $10!
A different approach to Mexican-style cuisine.
Recommendations: Top Shelf Guacamole (Logan even loved it!), Tacos de Pescado, or the Quesadillas al Carbon
Location: The Branson Landing
Live music, terrific patio seating, and American fare.
Recommendations: They have a decent buffalo chicken dip, a terrific turkey burger, and BBQ!
Location: The Branson Landing
They'll start you off wanting more when you first sit down and are greeted by a cast iron of jalapeño cornbread!
Location: The Branson Landing
Tex-Mex fare with a twist – all steak lovers will be happy here.
Recommendations: Crab & Avocado Stack Salad, Cheesy Jalapeño Grits, and the BBQ Chicken.
Location: The Branson Landing
Prepare to light a fire after completing a complimentary moonshine tasting.
Location: The Branson Landing
A Firehouse themed pizza joint that is operated by volunteer firemen. It's a really unique restaurant, with great pizzas too!
Location: Hollister
---
SWEET TREATS
Finding it hard to pick a sweet treat? Kilwins has everything a sugar addict could want! We recommend the Salted Caramel Ice Cream, Chocolate Peanut Butter Fudge, or the Champagne Truffle!
Location: The Branson Landing
A very quaint and beautiful coffee shop in historic Hollister that has crafted lattes and desserts to share.
While Sugar Leaf, may be known for their beautiful wedding cakes, they should also be known for their cookies, pastries, and terrific lunch cuisine.
Recommendations: Peach Iced Tea, Cafe Chicken Salad, Grilled Cheese, Strawberry Cake, and much more!
Location: Grand Village Shops
---
Things to do in Branson
SHOWS
Every few years the Sight & Sound theater comes out with a new performance based on a Biblical story. Each time we have visited, the shows have been comparable to those we have seen on Broadway. They have really dedicated actors/actresses, amazing sets, and beautiful songs. This is a must do if you are into theatrical performances or musicals.
Price: $45/adult
While the ticket price might at first turn you away, this show is incredible and unlike any of the other things to do in Branson. You will be perplexed by the Acrobats of China!
Price: $46.95/adult, $19.40/teen, $9.95/child
Being Dolly Parton's dinner theater, the Dolly Parton's Stampede definitely goes big! When you first arrive you will be able to look at all of the horses that will be performing in the show. Inside the theater entrance, you will be shown to a large room, with a center stage and tables with chairs to sit on before the main performance. Inside that room, they provide some live entertainment. After the opening act, you will be escorted to your seats on either the North or the South side. This show is one about coming together despite differences and it's not to be missed!
Price: $50/adult, $30/child (dinner provided)
For those that enjoy singing and comedy, Pierce Arrow could be next on your list! When Tony, Travis, Scott, and Dan aren't crooning up a country song, James Sibley starring as Gene Pool will have you crying from laughter with his family-friendly comedy.
Price: $37/adult, $17/child
We all have those performers we idolized, for Kallsy, it was Michael Jackson. At Legends in Concert, you can enjoy the tunes of former and current artists done so well, you'll think you're getting the real deal.
Price: $38.50/adult, $16.18/child
MUSEUMS
If you enjoy being bamboozled, intrigued, or disturbed, step right into Ripley's Believe It or Not museum and see what crazy artifacts you can find!
Price: $15/adult, $8/child
For lovers of antique cars and America's finest farm equipment, this museum is truly unique. However, you might want to leave your checkbook at home or you could be leaving with some new wheels!
Find yourself aboard the most famous ship that's ever sailed, the Titanic. This museum is informative, interactive and all-around fascinating!
Price: $23/adult, $11.50/child, $71/family pass (2 adults, 4 children) → (to get these prices order online).
RECREATION
Whether you are an adult traveler or a family with kids, this is a cheap and fun way to spend a couple of hours in Branson!
Prices: Blackbeard's Challenge $8.95/adult, Captain's Course $8.95/adult, 36-hole adventure $14.50/adult
An amusement park, live entertainment, shopping, and amazing food. This is not to be missed and would be enjoyable for all ages!
Price: $61/adult, $50/child, $59/senior
---
SHOPPING
Branson Landing: A ton of restaurants and places to shop for all!
Tanger Outlet: A typical outlet mall that hosts many well-known brands.
Picker's Flea Market: A unique market with odds & ends finds as well as grocery goods.
Grand Village Shops: A collection of local stores and boutiques unique to Branson. There is truly something for everyone and you can easily spend a few hours here looking at all of the specialty items.
---
RELAXATION
Sore from riding go-carts and walking around Silver Dollar City? Enjoy a 60-minute Swedish massage.
Price: starting at $70/individual massage
Opt in for a 45-minute neck, shoulder, foot massage. This also gives you access to all amenities at Big Cedar Lodge for the day if you aren't staying on the property.
Price: starting at $110/individual massage
---
OUTDOORS
Explore the caves underground and see why this singing cavern is unique!
Tip: wear comfortable shoes with a non-slip sole. The caves can be rather wet!
Price: $17.95/adult $9.95/child
Anywhere there are hiking trails you will most likely get a terrific view of the Branson skyline.
Price: FREE
A variety of outdoor activities for all. This is a MUST DO if you enjoy spending time outside! In addition, check out our post about Ridgedale, MO here in order to see our complete review of Dogwood Canyon.
We are always looking for hiking trails when traveling and were impressed with the natural beauty of the Henning Conservation area! If you are looking for a nice hike, this is the perfect spot.
Price: FREE
---
NIGHTLIFE
A terrific place to order an appetizer, mixed drink, or brew while also enjoying some live entertainment.
Location: The Branson Landing
Hours: Wednesdays-Saturdays | 7pm-1:30am
Cover Charge: $5 (last we checked), free if visiting for a reserved party. Must be 21 years or older.
---
If you happen to be traveling through Springfield while entering or leaving Branson might we also encourage you to visit Hurts Donut? You'll find some of the craziest combinations you can think of; cotton candy, cinnamon toast crunch, and cookie monster to name a few.
---
We hope that these things to do in Branson have been able to give you a little insight into Branson tourism and helped make planning your vacation more convenient!
What are some of your favorite shows, restaurants, and places to stay in Branson?