Disclaimer: This post contains affiliate links which we may make commission from. As always, we only recommend places and products we love!
A Quick Branson Travel Guide & Branson Itinerary
Growing up both of us spent a fair amount of time in family-friendly and affordable Branson, Missouri. It's a wonder that we didn't end up meeting here instead of college! 😉
We decided that while Branson isn't a big city, it can still be overwhelming trying to find places to stay, places to eat, and things to do in Branson. So we thought it would be helpful to combine our experiences in Branson for an overall helpful Branson travel guide and itinerary.
---
Where is Branson?
Branson is located in southwest Missouri nestled into the Ozark Mountains. It is a popular place to visit for a family-friendly vacation or romantic getaway.
---
Where to Stay in Branson
LUXURY HOTELS IN BRANSON
Big Cedar Lodge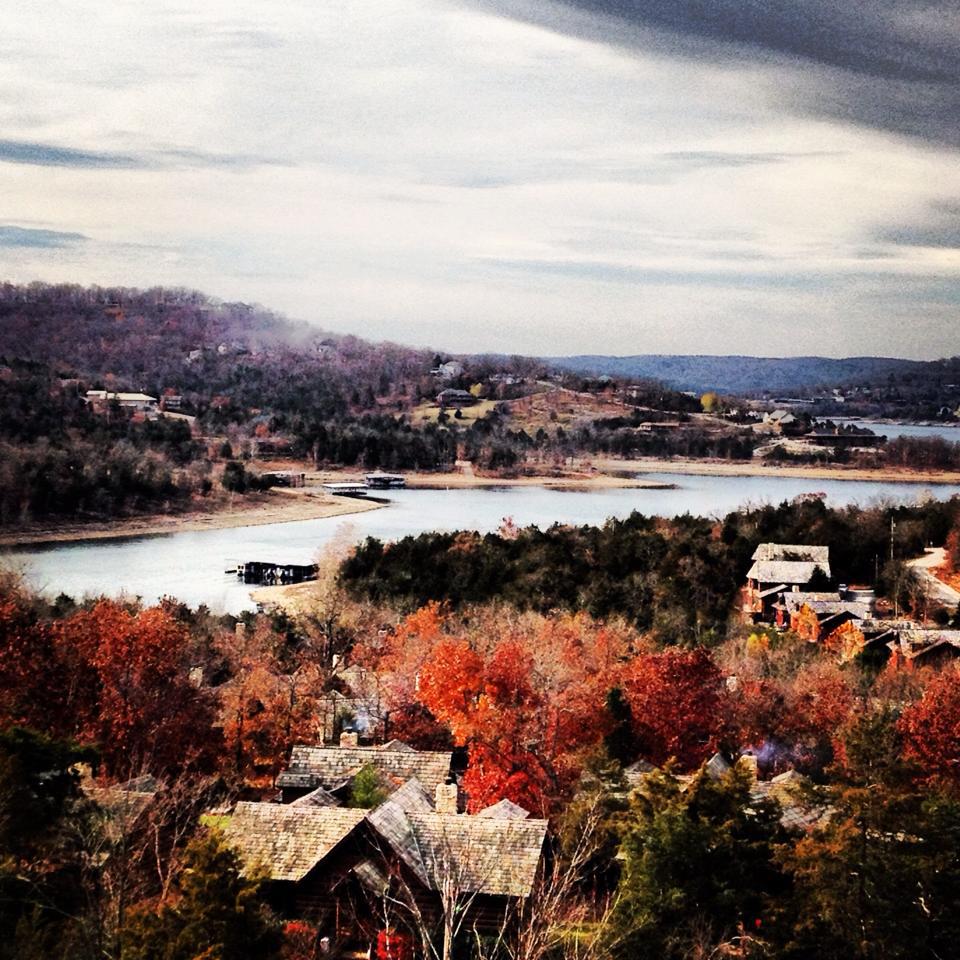 This is by far our favorite place to stay while in the Branson area due to the location and amenities it has to offer. Big Cedar has a wide variety of accommodations and we have yet to stay in all of them.
A more cost-friendly option than the hotel lodge or cabins is to stay at the Big Cedar Wilderness Club. These are timeshare properties but let us be clear, we do not own one. We often find deals on eBay from people renting out their property. 🙂
READ MORE: A Complete Guide to Big Cedar Lodge
Chateau on the Lake Resort & Spa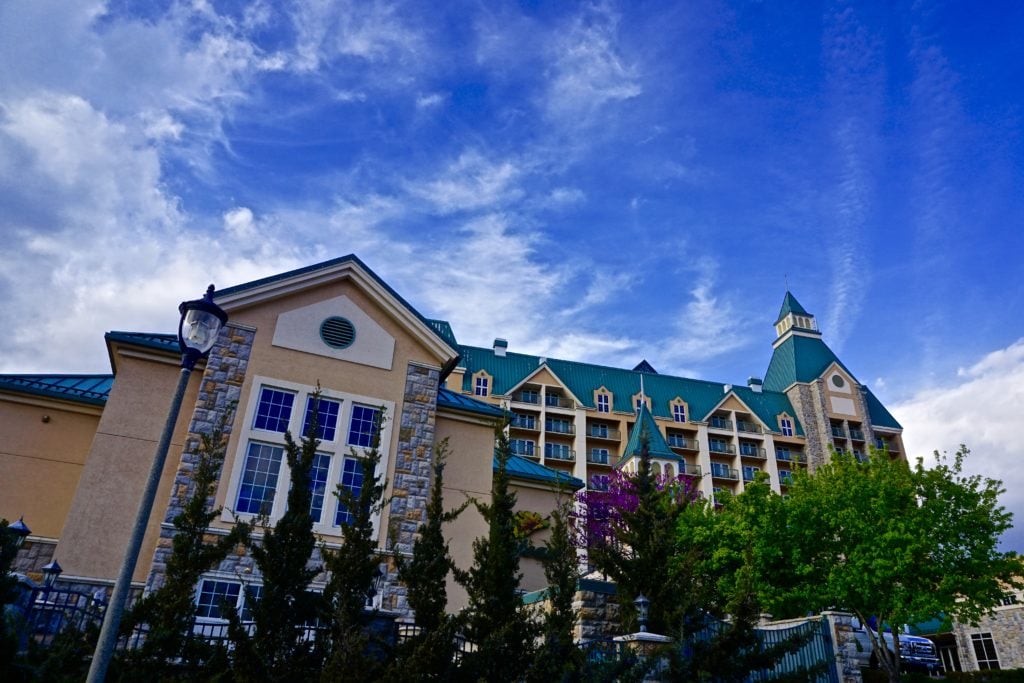 For those who are looking for a more traditional hotel with luxury accommodations and impeccable service consider booking your stay at the Chateau on the Lake Resort & Spa. We've stayed here once before and while it's a slightly older hotel, we were treated like royalty from the moment we arrived. Like Big Cedar Lodge (above), Chateau on the Lake offers on-site spa services, dining, and scenic views.
Cost: Starting at $139/night through their website or $129/night
MID-RANGE HOTELS IN BRANSON
Wyndham Branson at the Meadows
Though also a timeshare property you'll love how close the Wyndham Branson at the Meadows is to all of the Branson activities. It was really terrific for the price. The accommodations we had, offered two bedrooms and a loft (essential when staying with larger parties).
Cost: starting at $139/night
Hilton Branson Convention Center
Located right on the Branson Landing, the Hilton Branson Convention Center hotel is convenient and beautiful to stay at! You can easily head out of your hotel room and walk along The Landing for shopping and dining. It is also just minutes from other Branson shows and entertainment such as Silver Dollar City.
Cost: starting at $129/night
BUDGET HOTELS IN BRANSON
Honeysuckle Inn and Conference Center
If you're looking for a budget place to stay the Honeysuckle Inn and Conference Center is perfect for larger groups who are on a budget. It's also in a fabulous location just minutes from countless attractions and restaurants.
Cost: starting at $59/night
Twelve Oaks Inn
Bedroom area

Dresser, mini fridge, television

Small dining table area

Bathroom and vanity
While this is definitely not the most glamorous of places, the Twelve Oaks Inn is clean, and perfect if you are needing something affordable on the Branson strip. It also has a complimentary breakfast and a mini-fridge.
Cost: Starting at $45/night
---
Things to Do in Branson
Even with the countless times we've been to Branson, we still haven't attended every show or visited every attraction. However, these things to do in Branson are enough to get you started in this Branson travel guide.
SHOWS IN BRANSON
Sight & Sound Theatres
Every few years the Sight & Sound Theater comes out with a new performance-based on a Biblical story. Each time we have visited, the shows have been comparable to those we have seen in mainstream theaters. They have really dedicated actors and actresses, amazing sets, and beautiful songs. This is a must-do if you are into theatrical performances or musicals.
Price: $49/adult, $23/child
Acrobats of Shanghai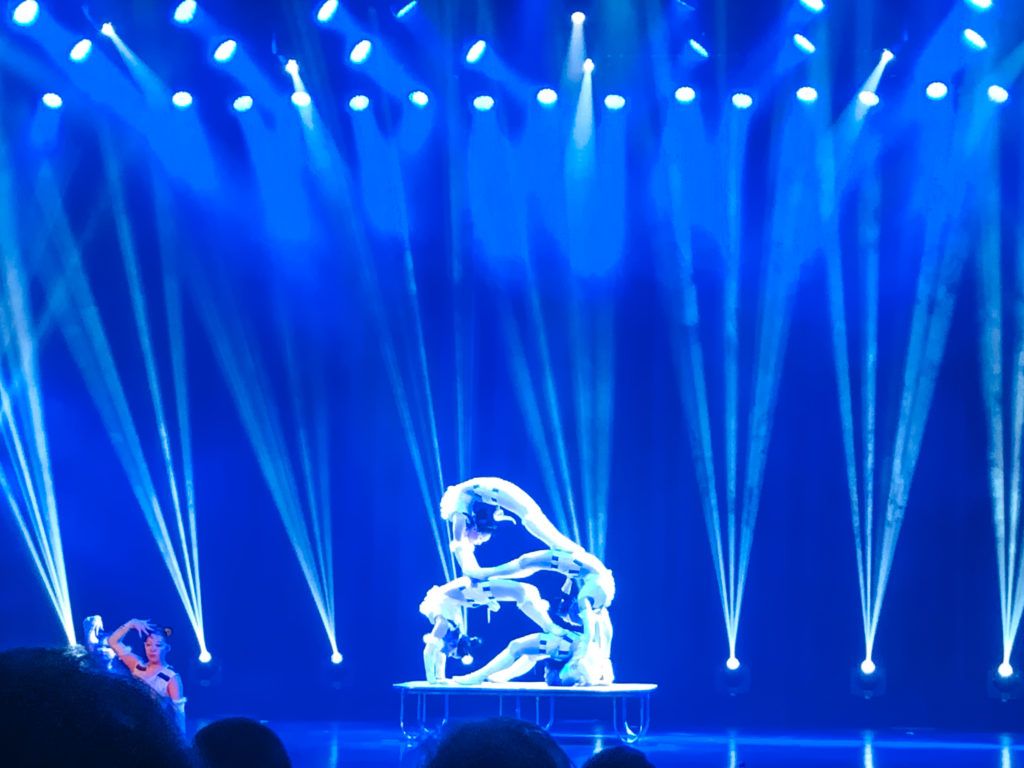 The Acrobats of Shanghai are unlike any of the other things to do in Branson. In this two-hour performance, there are beautiful costumes and scenery complete with the unbelievable art of acrobatics that will have you sitting on the edge of your seat! Each of the performers is incredibly talented and has a specific skill they showcase throughout the show such as chair balancing, foot juggling, aerial acrobatics, and plate spinning. This is by far one of the most exciting Branson shows around.
Price: $40/adult, $20/ages 5-15
Pierce Arrow Theater
For those that enjoy singing, comedy, and a little audience participation, Pierce Arrow Theater should be next on your list! When Tony, Travis, Scott, and Dan aren't crooning up a country song or taking you through the decades, James Sibley will have you crying from laughter with his family-friendly comedy performance.
Price: $38/adult, $20/child
Legends in Concert
Do you have a singer that you swoon over? As a kid and teenager, I couldn't get enough of Michael Jackson's music. At Legends in Concert, professional impersonators sing the tunes of former and current artists so well you might even think you're getting the real deal. 😉 When we attended Legends in Concert we saw Elvis, Johnny Cash, Barbra Streisand, and Frank Sinatra but their set rotates weekly so be sure to check and see who is performing before booking this Branson travel guide attraction.
Price: $38.50/adult, $16.18/child
---
MUSEUMS IN BRANSON
Ripley's Believe It or Not
As a kid, I used to BEG my parents to let me buy the newest Ripley's Believe It or Not book at our school book fair. Then as an adult, I finally visited the Ripley's Believe It or Not Museum! If you enjoy being bamboozled, disturbed, or are a fellow Ripley's book lover, this is the place for you. There are over 450 exhibits in the eight themed galleries at this Ripley's Believe It or Not location so step right up and see what crazy artifacts you can find!
Price: $20/adult, $12/child
Branson Auto & Farm Museum
For lovers of antique cars and America's finest farm equipment, the Branson Auto & Farm Museum is truly unique. There are over 2 acres of vintage cars and farm equipment including 150 collectible, classic, and muscle cars in their inventory. However, you might want to leave your checkbook at home or you could be leaving with some new wheels since most are for sale! 🙂
Price: $22/adult, $12/student
Titanic Museum
Of all the museums in Branson, the Titanic Museum is by far my favorite. As you enter the museum, you'll find yourself aboard this famous ship and receive a boarding pass of an actual passenger or crew member telling a few details about their life. Later on in the museum, you'll discover the fate of this passenger.
Before you start thinking this is a tourist trap, I'll admit that while some of the artifacts are replicas, there are over 400 authentic artifacts that are from the actual ship and its passengers. This museum is informative, interactive, and all-around fascinating!
Price: $30/adult, $14/child
---
RECREATIONAL ACTIVITIES IN BRANSON
Pirate's Cove Adventure Golf
Whether you are an adult traveler or a family with kids, Pirate's Cove Adventure Golf is an exciting, pirate-themed mini-golf park with 18 holes, waterfalls, and caves. It's a cheap and fun way to spend a couple of hours for your Branson itinerary.
Prices: Blackbeard's Challenge $9.50/adult, Captain's Course $9.50/adult, 36-hole adventure $14.95/adult
Silver Dollar City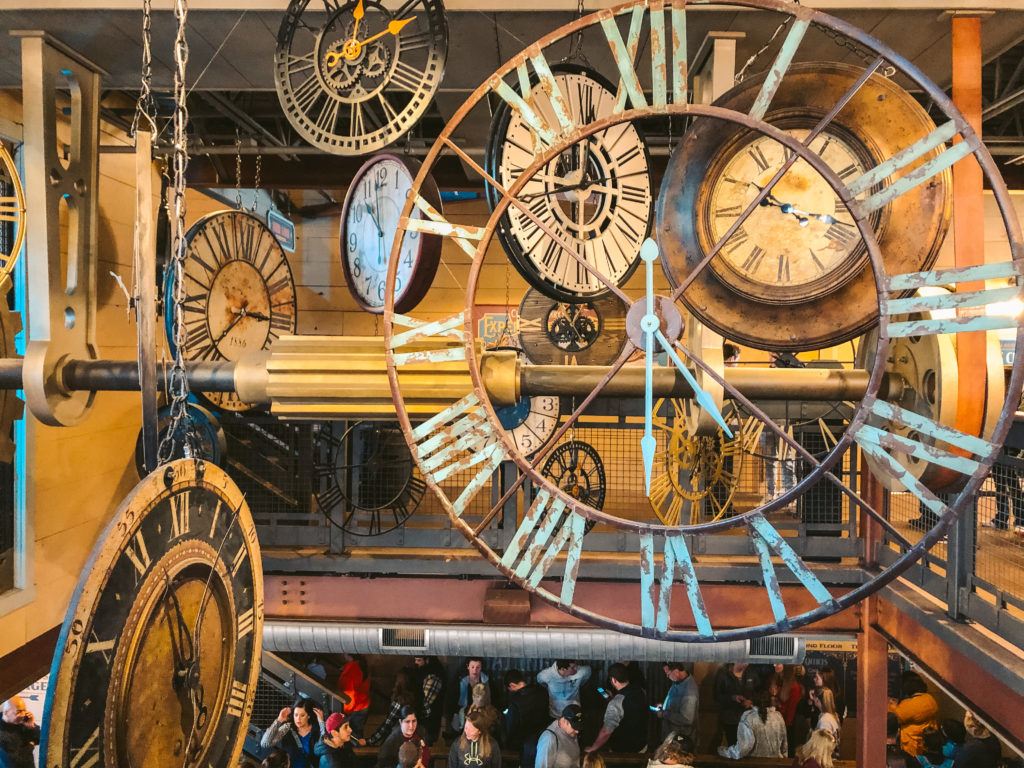 "If you've never been to Silver Dollar City, imagine you're at Cracker Barrel and there's a roller coaster attached to the gift shop." Yep, I think that tweet just about sums it up perfectly. Silver Dollar City is an 1880's amusement park with 30 different rides, live entertainment, crafts, and shopping.
Rides you can't miss at Silver Dollar City:
Time Traveler: The newest roller coaster at Silver Dollar City that spins you as your riding.
Powder Keg: A roller coaster that launches you from 0 to 53 mph in 2.8 seconds!
WildFire: A looping coaster that reaches speeds of 66 mph.
Fire-In-The-Hole: A low-key indoor roller coaster that is perfect for those who are wanting to experience their first coaster (it only has one small drop!).
The Giant Barn Swing: Swing seven stories high at 45 mph.
A few of our favorite places to eat at Silver Dollar City are the Tater Twist stand, Fry Bread Company for one of their sandwiches, Crossroads Pizza, and Eva & Delilah's Bakery for a breakfast item or snack. Once upon a time Logan may or may not have spent $50 on the cheesy breadsticks at Eva and Delilah's. Don't worry, he shared… sort of. For those that are curious about dietary restrictions, Silver Dollar City offers a number of gluten-free, dairy-free, vegetarian, and vegan options too!
Throughout the year there are a number of festivals, our favorites being the Fall Harvest Festival and the Old Time Christmas which is absolutely magical with millions of lights on display.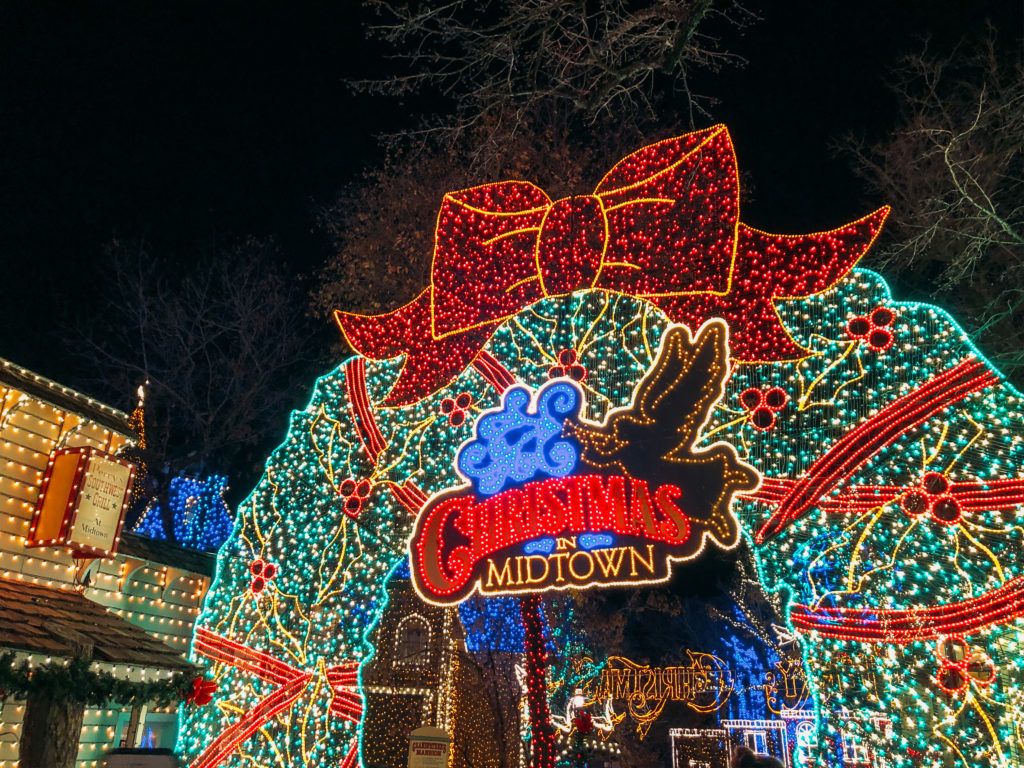 We love this place so much we typically spend a whole day here whenever we visit Branson and even bought season passes last year. With the variety of activities offered at Silver Dollar City, it's great for ALL ages and is by far our favorite attraction in this Branson itinerary.
Price: $71/adult, $61/child, $69/senior
---
SHOPPING IN BRANSON
The Branson Landing
The Branson Landing has a number of restaurants and stores to shop at in a casual outdoor mall setting. Some of the stores you can find at the Branson Landing are H&M, Belk, Francesca's, Versona, Brighton, The Spice & Tea Exchange, Earthbound Trading and Bass Pro.
Tanger Outlets Branson
Tanger Outlets is a typical outlet mall that hosts many well-known brands including Adidas, Coach, Nike, Under Armour, Fossil, Merrell, Polo, Vera Bradley, and Michael Kors.
Grand Village Shops
A collection of local stores and boutiques unique to Branson. This is one of those shopping areas that you easily spend a few hours here looking at all of the specialty items and local goods.
---
SPAS IN BRANSON
Spa O2
Sore from riding go-carts and walking around Silver Dollar City? Enjoy a massage at Spa O2. Spa O2 is a premier day spa that offers massage therapy, Swedish massage, prenatal, deep-tissue massages, and other treatments.
Price: Starting at $70/individual massage
Cedar Creek Spa at Big Cedar Lodge
Relaxation room area to enjoy while waiting to be taken to your spa service.

Private gender specific pool
Cedar Creek Spa is a bit more expensive than other spas in Branson but the luxury amenities here are amazing. If you book a spa service it also gives you access to all amenities at Big Cedar Lodge for the day if you aren't staying on the property including the plunge pools, ice baths, and grotto pools.
Price: Starting at $110/individual massage
---
OUTDOOR ACTIVITIES IN BRANSON
Talking Rocks Cavern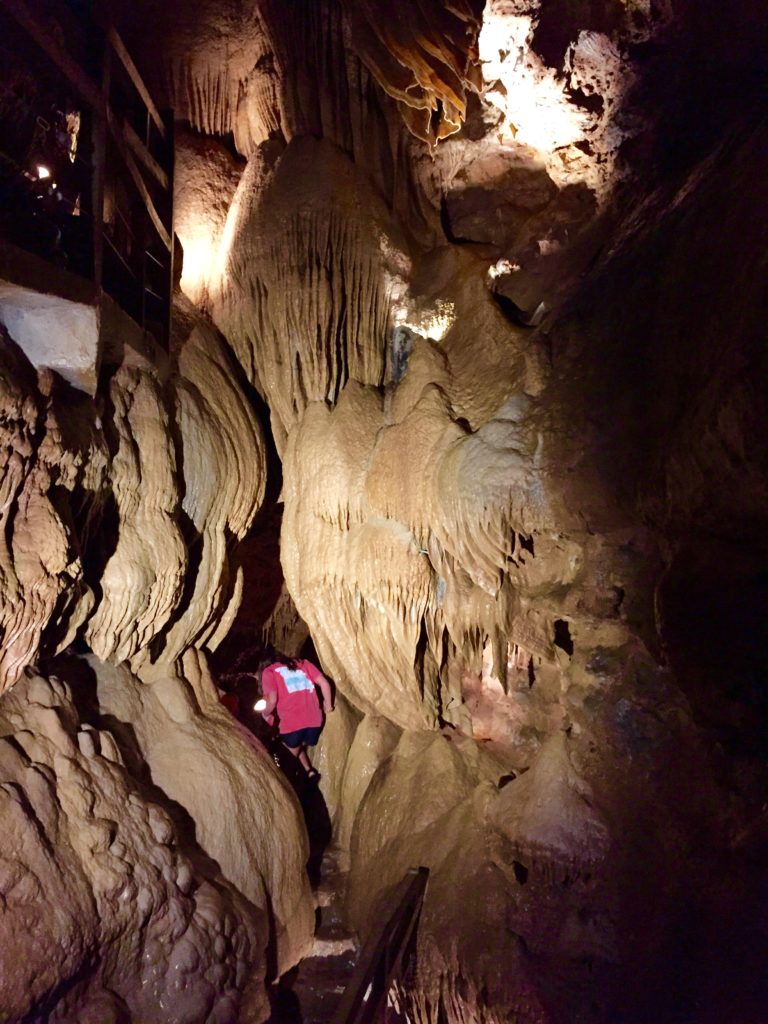 If you are looking for a unique outdoor experience, Talking Rocks Cavern is a really neat place to visit on this Branson travel guide. Talking Rocks Cavern offers an hour-long guided, walking tour through the cavern that is 63 degrees year-round.
Tip: Wear comfortable shoes with a non-slip sole. The caves can be rather slick!
Price: $21.95/adult $11.95/child
165 Scenic Outlook
The 165 Scenic Outlook has one of the most terrific panoramic views of the Branson skyline. We recommend visiting at sunrise or sunset for the best view from the overlook.
Price: FREE
Dogwood Canyon Nature Park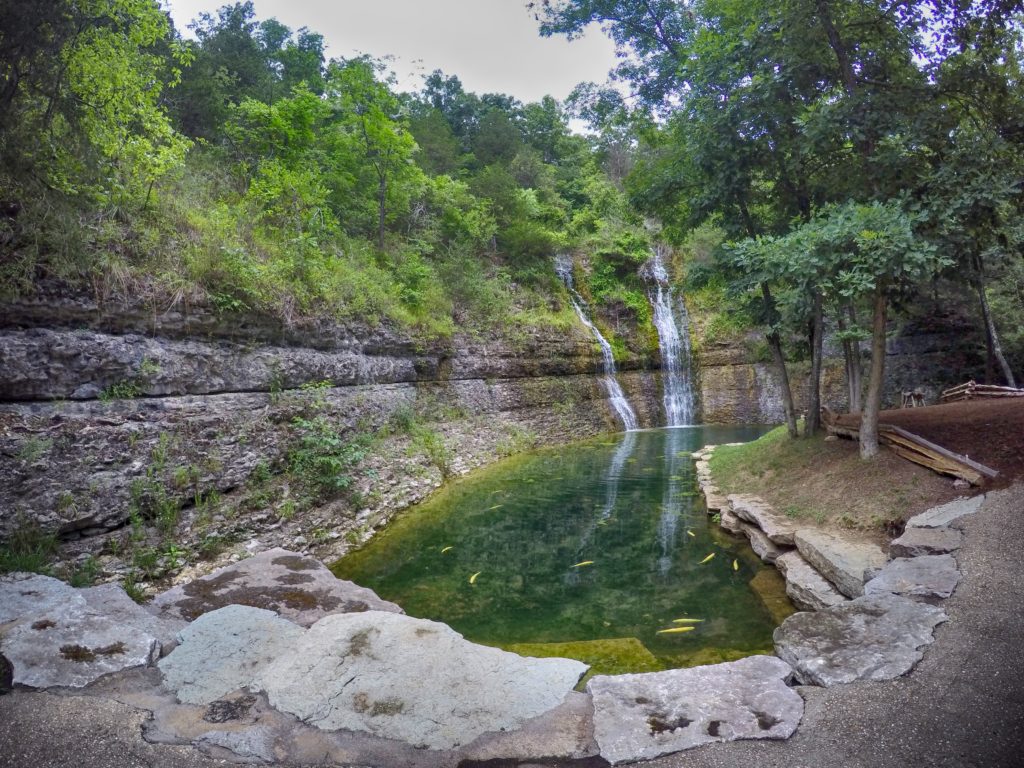 Located a little outside of Branson, Dogwood Canyon is our favorite place to spend time outside in this Branson itinerary. The 10,000 acres at Dogwood Canyon are the perfect place to explore by bike, walking, or a guided tram tour. There are also a number of other activities to enjoy in Dogwood Canyon like fishing, segway tours, and horseback riding,
Ruth and Paul Henning Conservation Area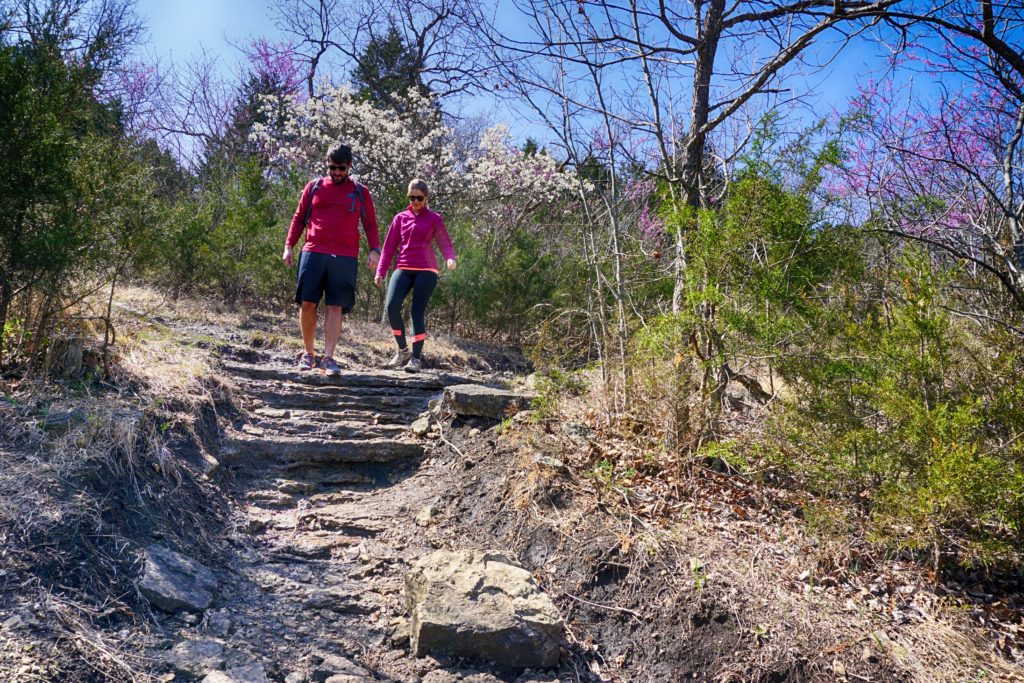 We are always looking for hiking trails when traveling and were impressed with the natural beauty of the Ruth and Paul Henning Conservation Area. If you are looking for a nice, short hike, this is the spot.
Price: FREE
---
NIGHTLIFE ACTIVITIES IN BRANSON
Ernie Biggs Dueling Piano Bar
Ernie Biggs Dueling Piano Bar is a typical piano bar but also a terrific place to order an appetizer, mixed drink, or brew while also enjoying some live entertainment. Request your own songs for some added pizazz. 😉
Location: The Branson Landing
Hours: Wednesdays-Saturdays | 7pm-1:30am
Cover Charge: $5 (last we checked), free if visiting for a reserved party. Must be 21 years or older.
---
Places to Eat in Branson
FINE DINING IN BRANSON
Dobyns Dining Room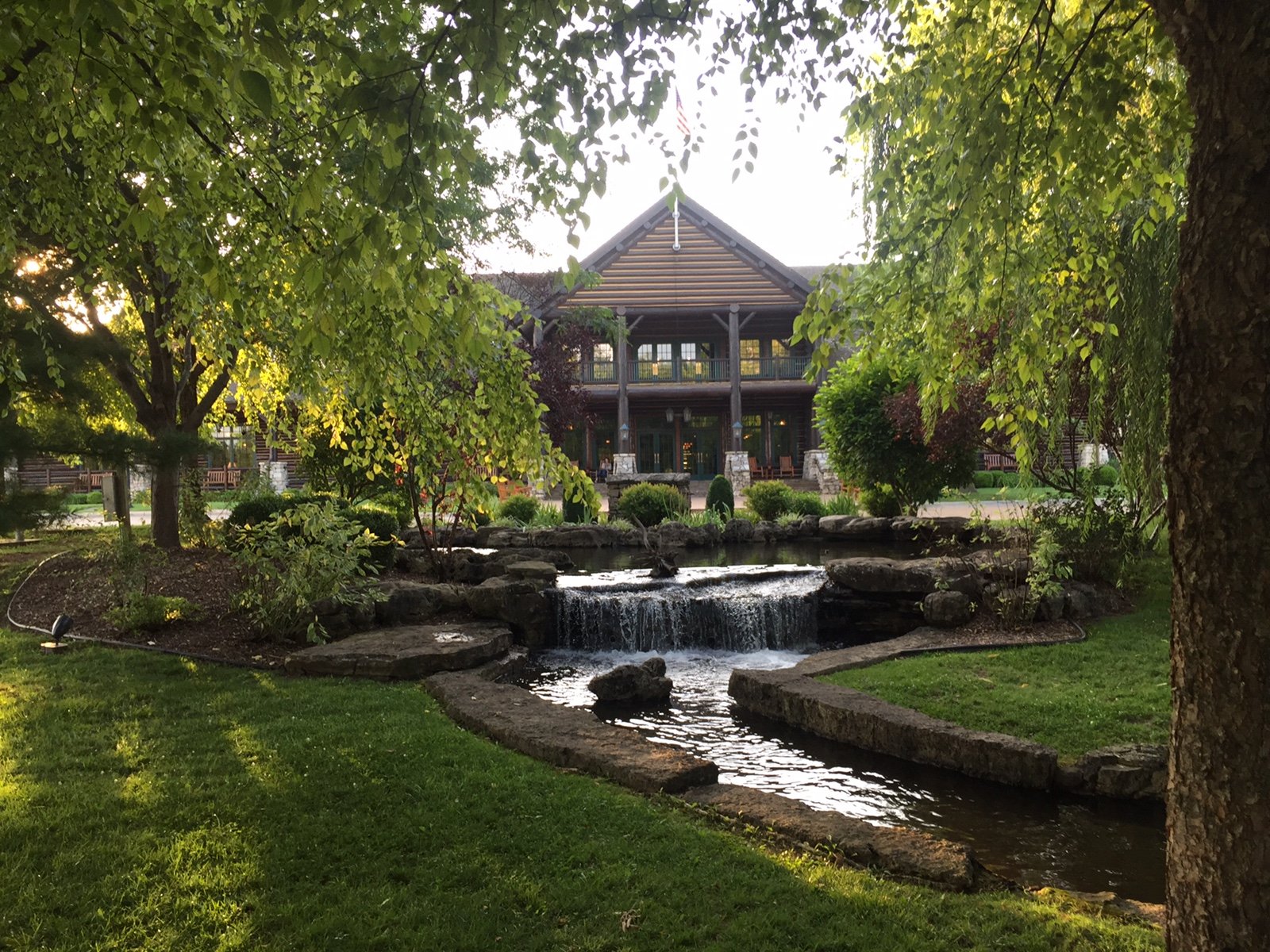 Located at the College of the Ozarks, Dobyns Dining Room is an incredibly unique restaurant. Everything is student-run, meaning the staff at the restaurant are current students at the College of the Ozarks. Even cooler, all of the food you eat is from student-operated farms!
Recommendations: Pulled Pork BBQ Mac & Cheese, Catfish Almandine, and polish it off with their fresh chocolate cake for dessert (be careful, it's HUGE). Please note their menu changes seasonally.
Landry's Seafood House
Landry's Seafood House is a bit more upscale dining that is perfect for couples or large parties. We were surprised that the seafood seemed so fresh being in southern Missouri.
Recommendations: Snapper Hemingway or the snow crab legs
Location: off of the main Branson strip
---
CASUAL DINING IN BRANSON
Danna's Barbeque & Burger Shop
Danna's Barbeque & Burger Shop is a family-owned local BBQ joint that is ALWAYS busy for a great reason, it's dang tasty. Every night, they smoke their beef and pork for 12-14 hours over hickory wood and their ribs, chicken, and sausage is smoked for four hours, twice a day. All of the meat is never frozen so you can trust that you're getting a plate of fresh good ol' fashioned BBQ.
Recommendations: Try the Combo Plate and pick two types of meat. Let it also be known that the Memphis rolls are to die for and better yet if you love them as much as we did you can buy a dozen for $10!
Cantina Laredo
Although it's a chain restaurant, I felt it necessary to include Cantina Laredo in this Branson travel guide because it's a great place to dine at on the Branson Landing. Cantina Laredo has a different approach to Modern Mexican cuisine that is consistently good.
Recommendations: Top Shelf Guacamole (Logan even loved it!), Tacos de Pescado, or the Quesadillas al Carbon
White River Fish House
White River Fish House is a historic floating restaurant that is located off Lake Taneycomo. When you first sit down and are greeted by a cast-iron of jalapeño cornbread and as the name suggests, fresh seafood is the focus here but they also have steaks, chicken, and sandwiches.
Recommendations: White Cheddar Cheese Curds, Brown Sugar Glazed Salmon, and the spicy breaded Canadian Walleye
Hook & Ladder Pizza Co
Hook & Ladder Pizza Co is a firehouse themed pizza joint that is operated by volunteer firemen. We love the casual environment and the great pizzas too!
Sugar Leaf Bakery & Cafe
While Sugar Leaf Bakery may be known for their beautiful wedding cakes, it is also my favorite lunch spot in Branson. To be honest, I have come here solely to purchase 3-4 different desserts and not share (no shame).
Recommendations: Peach Iced Tea, Homemade Hot Chocolate, Strawberry Spinach Salad, Cafe Chicken Salad, Ultimate BLT, Strawberry Cake, S'mores Cookie, and so many more desserts.
---
DESSERTS IN BRANSON
Kilwins
Finding it hard to pick a sweet treat? Kilwins has everything a sugar addict could want! We recommend the Salted Caramel Ice Cream, Chocolate Peanut Butter Fudge, or the Champagne Truffle!
Location: The Branson Landing
Vintage Paris Coffee & Wine Cafe
A very quaint and beautiful coffee shop in historic Hollister that has crafted lattes and desserts to share.
---
We hope that this Branson itinerary and travel guide has been able to give you a little insight into Branson and helped make planning your vacation more convenient! What are some of your favorite shows, restaurants, and places to stay in Branson?
---
Like this post? Save it on Pinterest!