A Complete Guide of Things to Do in Northwest Arkansas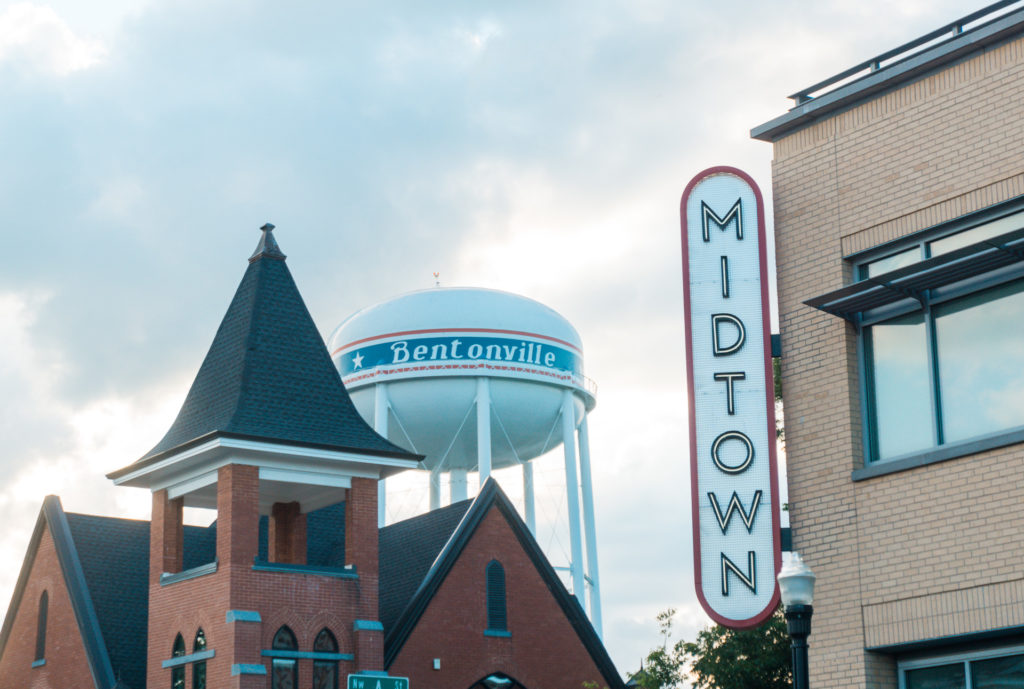 In the summer of 2017, Logan started a rotation at a clinic in Northwest Arkansas, little did we know we would eventually move here in the fall of 2018 and fall in love with this area.
If you've read our bios, you'll know that I grew up in a city and have always lived in cities or suburbs of cities. Logan grew up in a small town and the first time he lived in a city was when we moved to St. Louis for his optometry school program.
I mention this because when we were looking for jobs in his last year of school we were reminded of Northwest Arkansas. In our opinion, it has the best of both worlds. It has all the amenities of a big city, but with significantly less traffic and a small town community feel! 😉
Another fun fact is that Northwest Arkansas is the home to Walmart! Yep, this is where Walmart Corporate is located along with many other large companies like Tyson and J.B. Hunt.
Northwest Arkansas is also the home to the University of Arkansas so of course, Razorback sports are a big deal around here. Because of these companies and the university, there is a lot of funding for arts, restaurants, and events – which we will cover in this guide of things to do in Northwest Arkansas.
Disclaimer: This post contains affiliate links which we may make commission from. As always, we only recommend places and products we love!
---
Where is Northwest Arkansas Located?
As you might have already guessed, Northwest Arkansas is located in the northwestern corner in the state of Arkansas. It is primarily made up of the cities of Fayetteville, Springdale, Rogers, and Bentonville (which we will cover in this post) although there are a few outlier towns and cities in the area too – Eureka Springs and Bella Vista being two of these.
When we moved here we quickly found out that most people refer to this area as Northwest Arkansas versus the specific city they live in – which took some getting used to! But considering most of the cities are within 15-30 minutes of each other, it's easy to spend a weekend in Northwest Arkansas and visit all of the areas in this corridor.
---
How To Get To Northwest Arkansas
Flying to Northwest Arkansas
While it might surprise you, Northwest Arkansas has its own airport (XNA) that has many direct flights – Dallas, San Francisco, New York, Chicago, and Los Angeles just to name a few. Compared to Tulsa, the next closest airport, prices aren't too much more. And because of the direct flights to and from larger cities, international flights are easy to catch in Northwest Arkansas too.
If you decide to fly to XNA you can use a rideshare program like Uber or Lyft to your hotel, but we would recommend renting a car because public transportation is only limited to Fayetteville and parts of Springdale.
Driving to Northwest Arkansas
Driving is the most popular choice when planning a trip to Northwest Arkansas since it is an easy road trip from many places in the Midwest or the Southeast United States.
From Tulsa, Oklahoma: Approximately 2 hours
From Little Rock, Arkansas: Approximately 3 hours
From Kansas City, Missouri: Approximately 3 hours
From St. Louis, Missouri: Approximately 5 hours
From Dallas, Texas: Approximately 5 hours and 30 minutes
---
Where to Stay in Northwest Arkansas
21c Museum Hotel Bentonville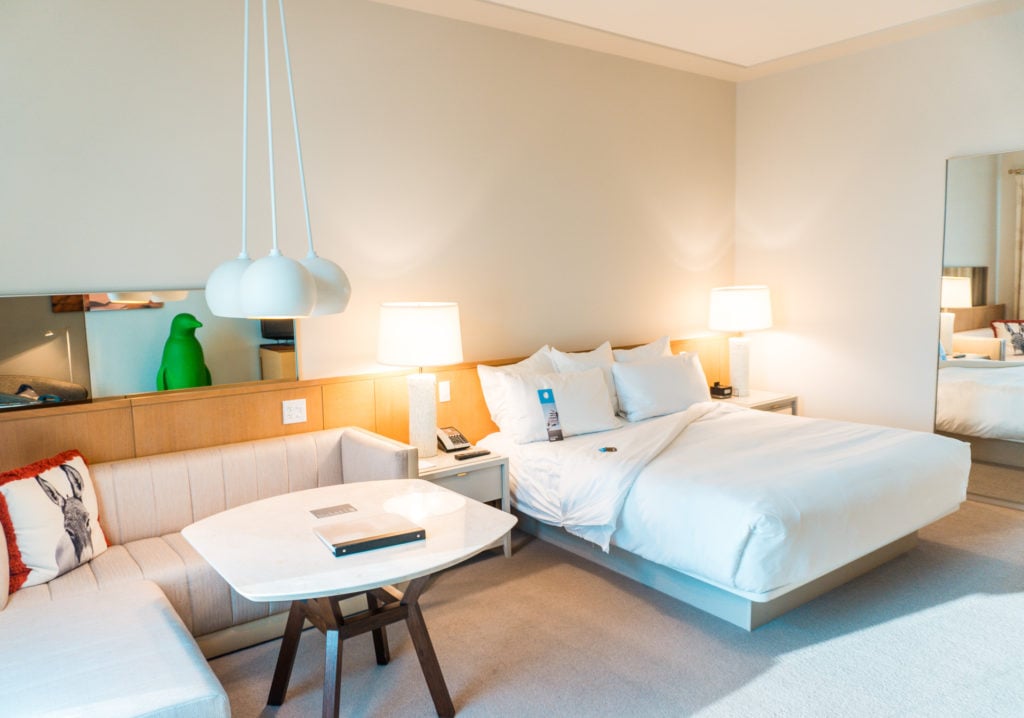 If you are looking for an intriguing and hospitable place to relax after spending some time touring, 21c Museum Hotel Bentonville will immediately make you feel at home.
Each one of the 21c Museum Hotel properties offers a contemporary art museum, paired with a boutique hotel and chef-driven restaurant to provide you a compelling and unique experience during your stay.
The 21c Museum Hotel Bentonville is no less, captivating guests with its Southern charm and encouraging each guest to open their eyes to a new world of contemporary art, flavorful dishes, artistically posh pet-friendly rooms, and so much more.
Location: 200 NE A St, Bentonville
READ MORE: A Complete Review of the 21c Museum Hotel in Bentonville
Other Places to Stay in Northwest Arkansas
South Walton Suites Hotel: This hotel is perfect for families or business travelers since it has more spacious rooms and a kitchen.
Graduate Fayetteville: Perfect for those who like being walking distance from amenities, Graduate Fayetteville is located right off the downtown Fayetteville square and a short distance from the University of Arkansas campus and Dickson Street.
Stay NWA: Stay NWA has 30+ luxury rental properties available in Northwest Arkansas. Some can accommodate larger groups as well.
Look for other places to stay in Northwest Arkansas
---
Things to do in Northwest Arkansas
Crystal Bridges Museum of Art
Crystal Bridges Museum of Art is home to some of the best contemporary art you'll ever find with rotating exhibitions from well-known artists including Roy Lichtenstein, Dale Chihuly, and Georgia O'Keeffe.
Crystal Bridges also offers miles of free bike trails in Northwest Arkansas where you can view scenic outdoor beauty as well as various sculptures and other art pieces along the trails.
While at Crystal Bridges be sure to check out the gift shop to look for items crafted by local artists, entrepreneurs and small businesses.
Location: 600 Museum Way, Bentonville
Hours: Saturday-Monday: 10am-6pm, Tuesday: Closed, Wednesday-Friday: 10am-9pm
Cost: FREE, some special exhibits do cost
READ MORE: Visiting Crystal Bridges Museum of Art
---
The Momentary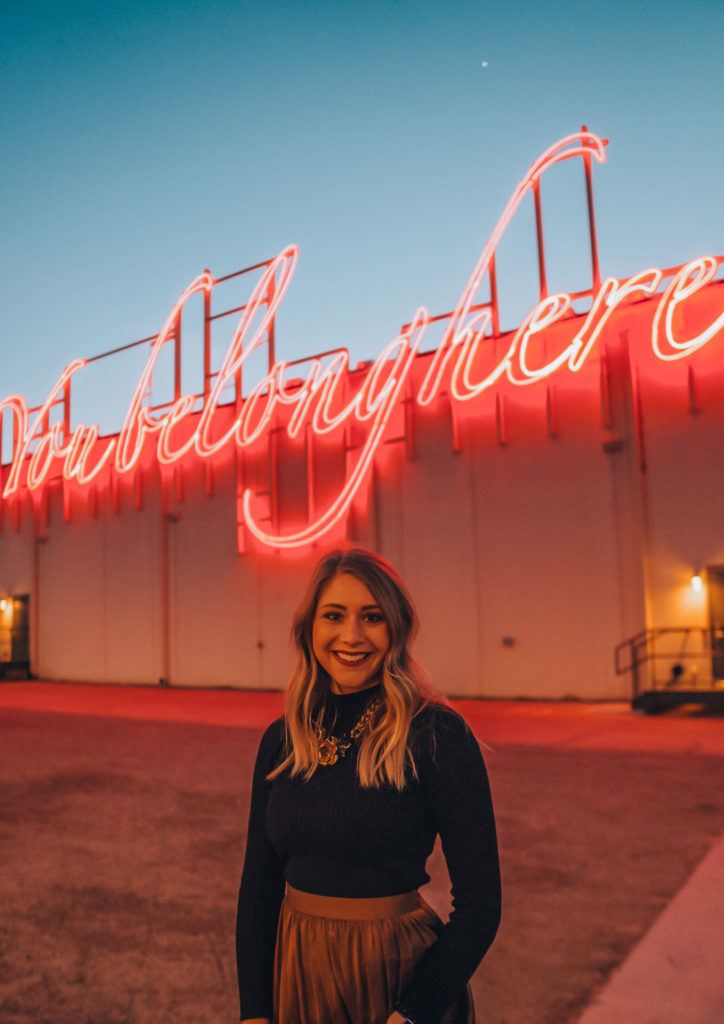 The Momentary is a new contemporary art and event space that is located in Bentonville. The main goal of The Momentary is to cultivate art and cultural experiences. It has rotating art exhibits, epic event spaces, an adorably pink Onyx Coffee Location, and The Breakroom – where you can get a bite to eat. Before you leave, be sure to stop at the Tower Bar that has handcrafted cocktails and epic views.
Location: 507 SE E St, Bentonville, AR 72712
Hours: Sunday 10am-7pm, Tuesday & Wednesday 10am-7pm, Thursday-Saturday 10am-10pm, Closed Monday
Cost: Free to visit, except for certain events
---
The Walmart Museum & Walton's 5 & 10
The Walmart Museum may not be something you would consider when looking at things to do in Northwest Arkansas but it's incredibly engaging. The Walmart Museum opened in 1990 to educate, engage, and inspire visitors about the history and heritage of Walmart.
At the museum, learn the legacy of Sam Walton from the very beginning and stop by Walton's 5 & 10 for some classic candies or games. After, indulge in an inexpensive treat at The Spark Cafe, such as a Moon Pie Sundae.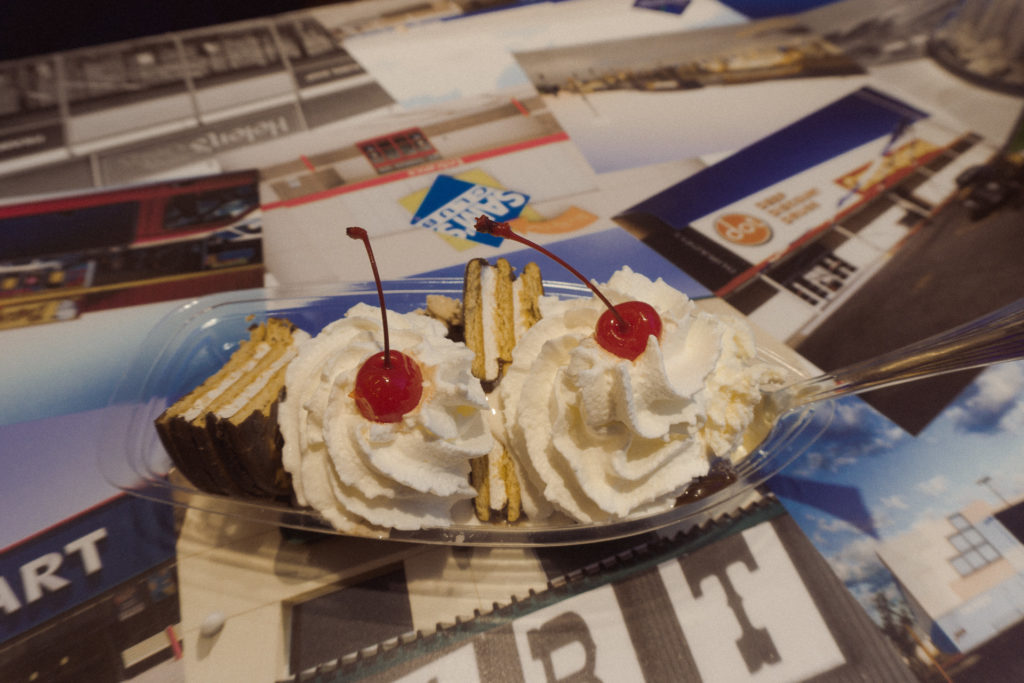 Location: 105 N. Main Street, Bentonville
Hours: Sunday: 12pm-9pm, Monday-Thursday: 8am-9pm, Friday & Saturday: 8am-10pm
Cost: FREE
---
War Eagle Mill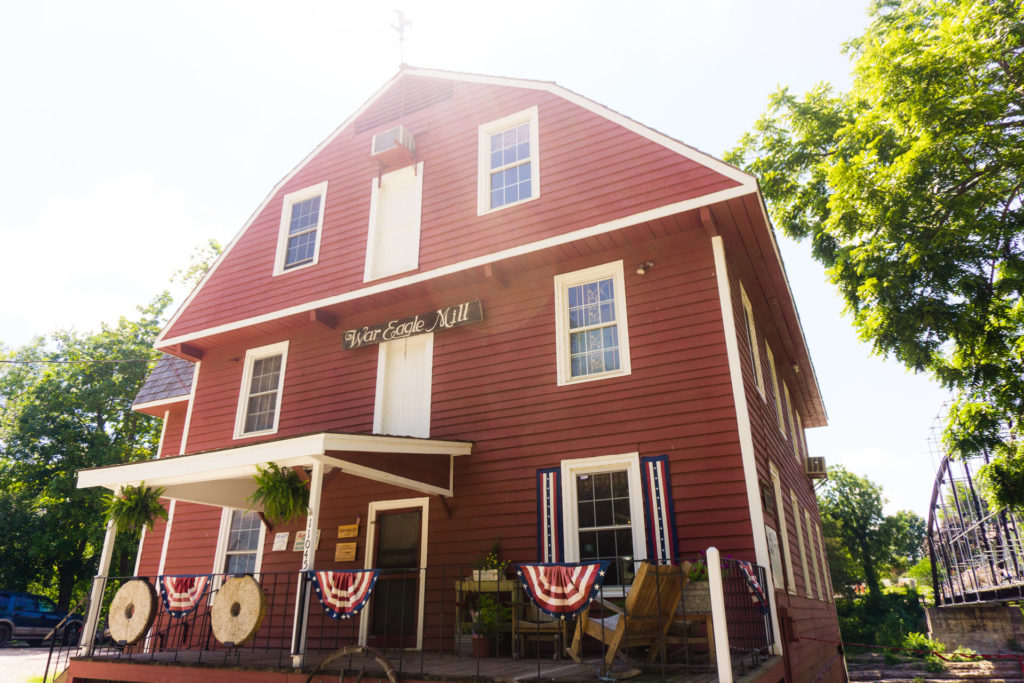 Located near Beaver Lake in Northwest Arkansas, War Eagle Mill is a working gristmill that has been operating on this location since 1832. Having been destroyed by disasters such as flooding and fire it has been completely rebuilt and renovated many times since it's opening.
Although it dawns a new look, War Eagle Mill still offers delicious homemade products, household goods & gifts, and even a small restaurant called The Bean Place Cafe.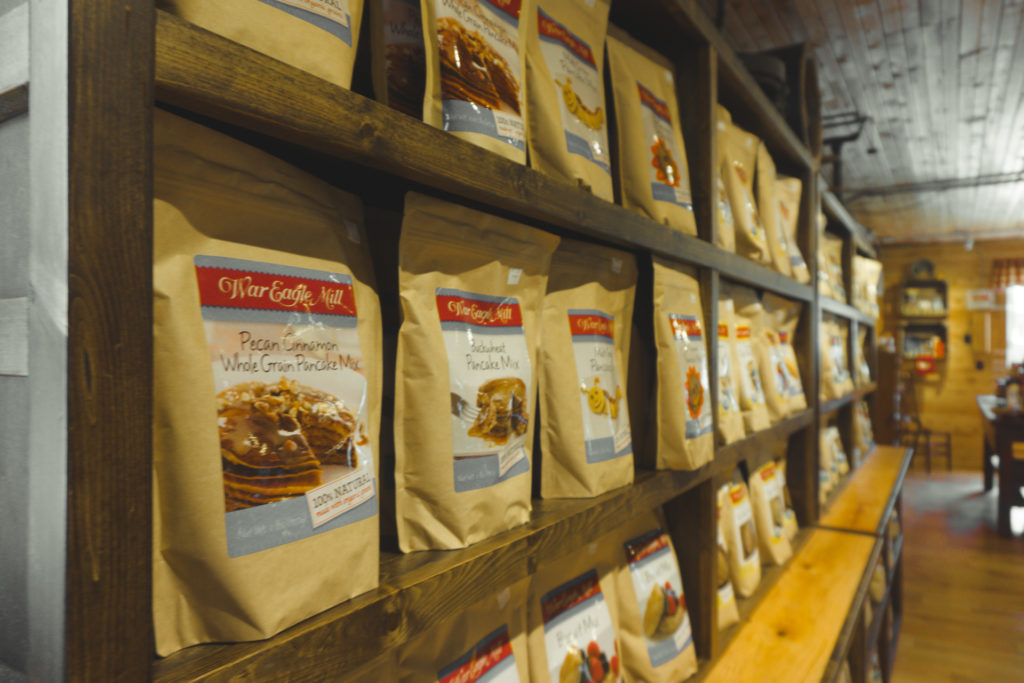 Location: 11045 War Eagle Rd, Rogers
Hours: 8:30am-5pm, daily, March 1st-January 1st
---
St. Catherine's at Bell Gable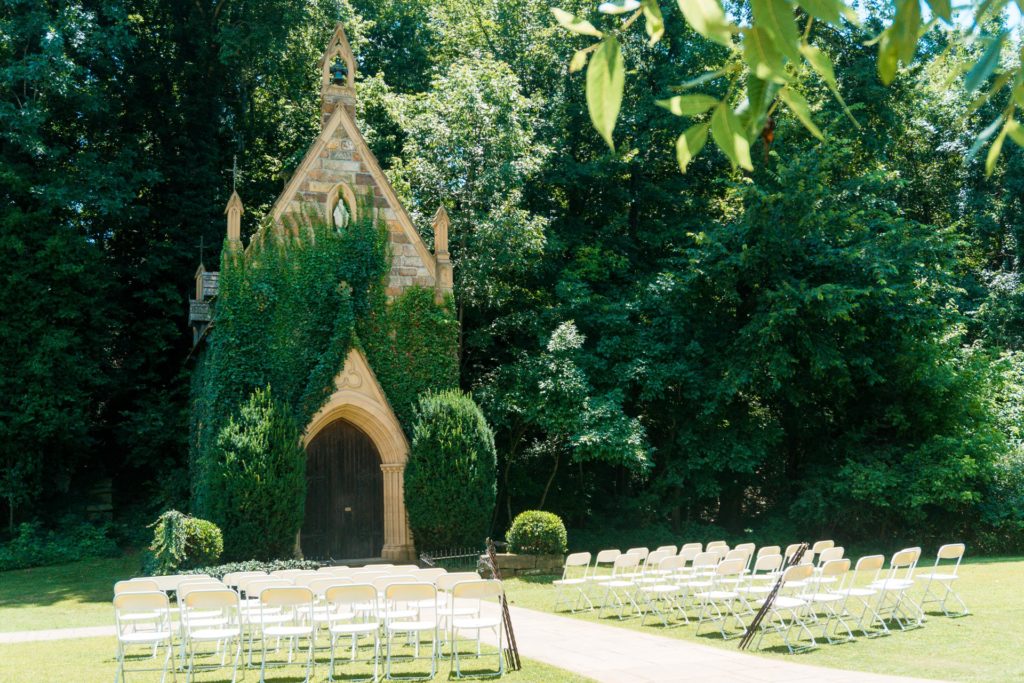 Hidden down a windy and lush forest road, St. Catherine's at Bell Gable will immediately make you feel like you've stepped into a fairytale or The Secret Garden which makes this one of the unique things to do in northwest Arkansas.
The stained glass windows and doors are from a church in England which helped inspire the European architecture. St. Catherine's is available for special events like weddings or other parties but is also open for viewing pleasure and meditation.
Hours: Sundays 12:00pm-3:00pm
Location: 2140 N Stone Chapel Ln, Fayetteville
---
Cheap Thrills Thrift Store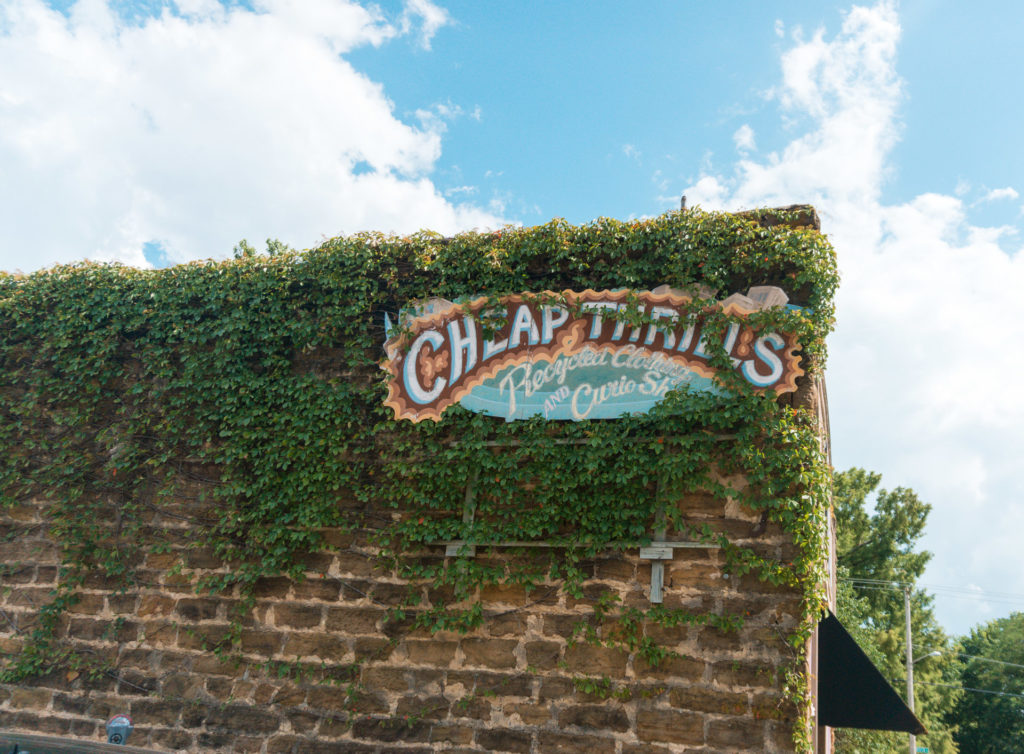 One of the quirkiest things to do in Northwest Arkansas is hands down, Cheap Thrills! Walk into Cheap Thrills and peruse through the vintage garb from every era. Even if you aren't looking for something special, you're most likely to find something posh that you can't leave without at this top thing to do in Fayetteville.
Hours: Monday-Saturday 10:30am-6pm, Closed Sundays
Location: 120 S E Ave, Fayetteville
---
Botanical Gardens of the Ozarks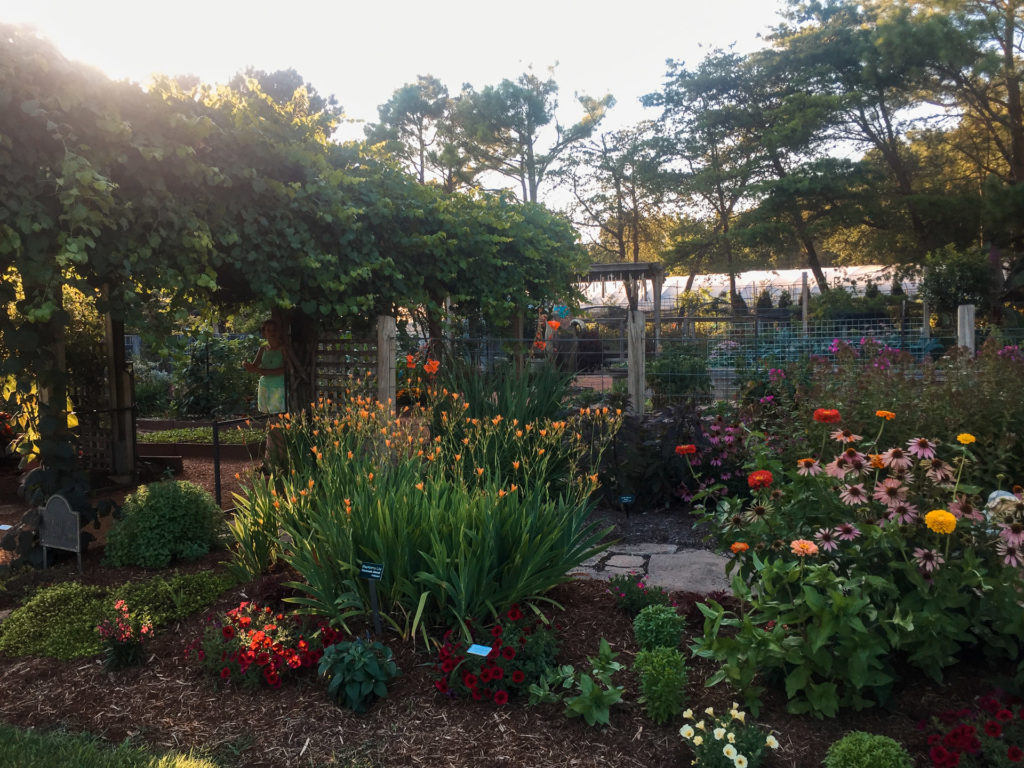 Although the Botanical Gardens of the Ozarks is a small garden, it's the perfect place to bask in the serenity of nature, have a picnic, take a stroll or even enjoy live music during the summer months in Northwest Arkansas.
Hours: Sunday-Saturday 9am-5pm
Location: 4703 N Crossover Rd, Fayetteville
Cost: $7/adults, $4/children
---
Local Street Art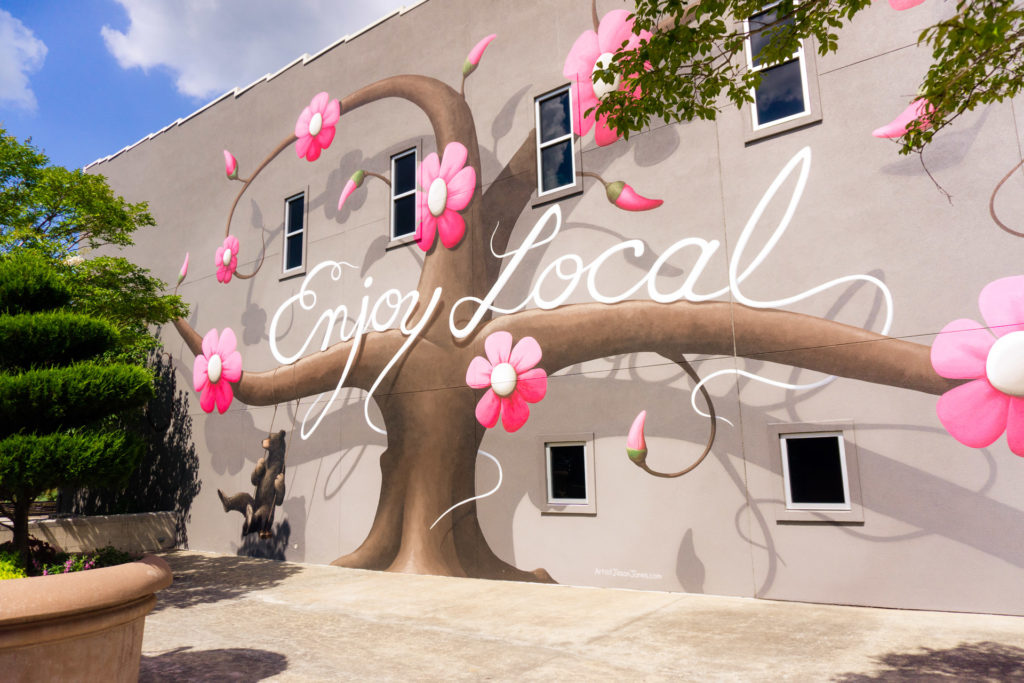 All over Northwest Arkansas, you'll find small and large-scale pieces of urban contemporary street art. As your walking, the streets of Fayetteville, Bentonville, and Rogers, keep an eye out for these one-of-a-kind artworks.
Location: Downtown Fayetteville, Springdale, Bentonville, and Rogers
READ MORE: The Coolest Street Art Murals Around the World
---
Bike Trails in Northwest Arkansas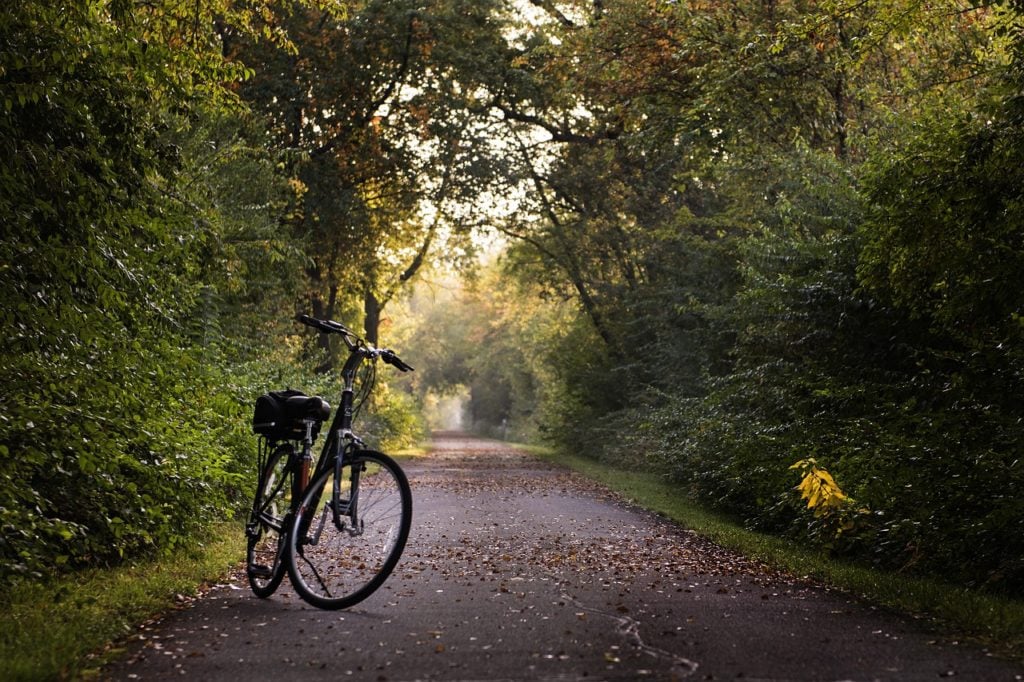 Northwest Arkansas offers some impressive bike trails with scenic outdoor beauty that perfect for all nature lovers. Take a spin on your spokes at one of the paved trails or off-road trails.
Don't have a bike? You can rent one!
Bentonville Downtown Activity Center
---
Where to Eat in Northwest Arkansas
Crepes Paulette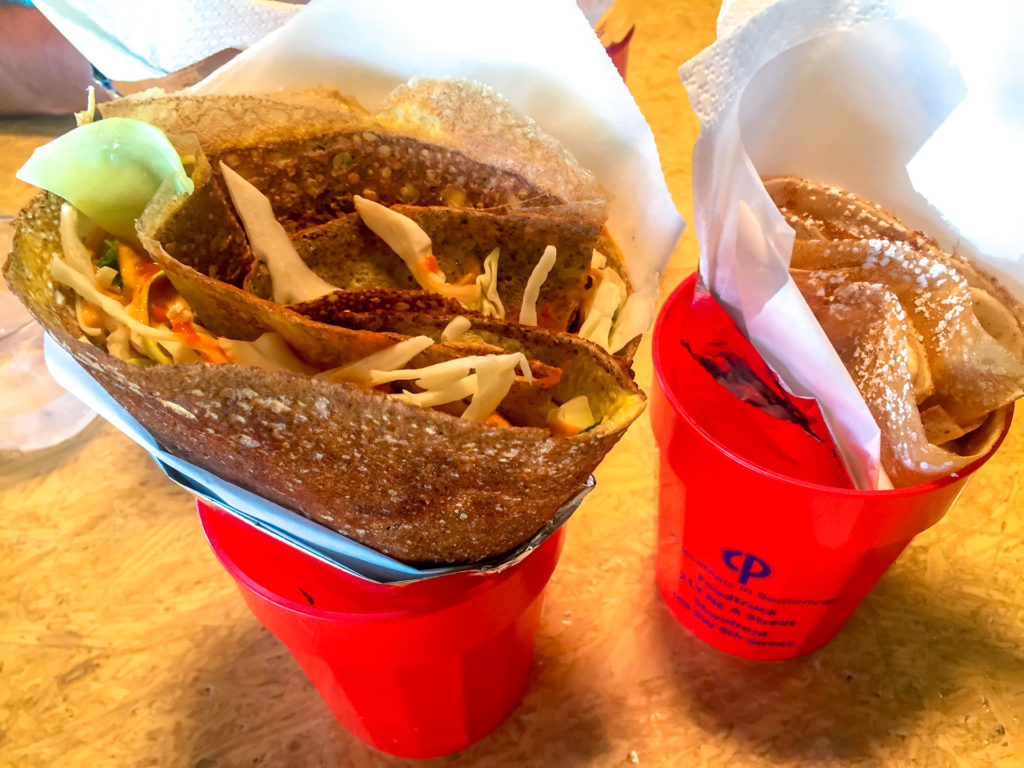 Get your hands on all things sweet and savory at this French-inspired casual crepe restaurant. Crepes Paulette also offers many vegan, vegetarian, allergy-friendly options too.
Location: 100 SW 8th Street, Bentonville
Hours: Monday-Friday: 10am-7pm, Saturday & Sunday: 9am-4pm
---
Bentonville Butcher & Pints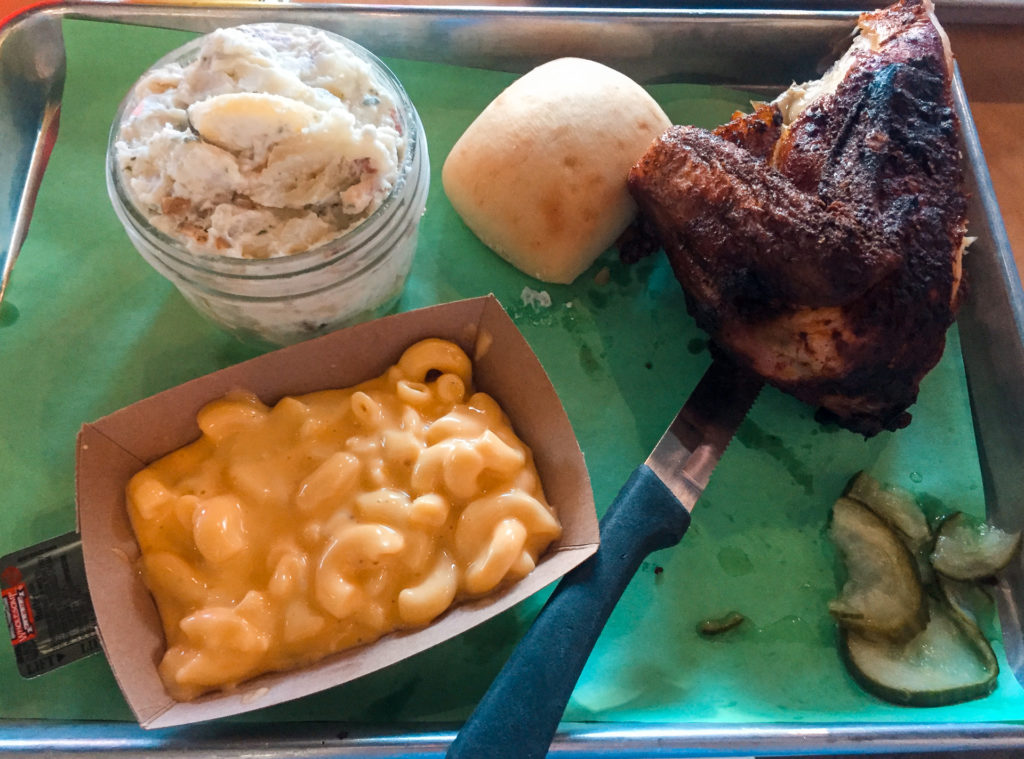 Bentonville Butcher & Pints provides fresh, local ingredients including delicious smoked meats, tasty sides, and local craft beer.
Location: 1201 S Walton Blvd #105, Bentonville
Hours: Sunday-Thursday: 10am-9pm, Friday & Saturday: 10am-10pm
---
Foster's Pint & Plate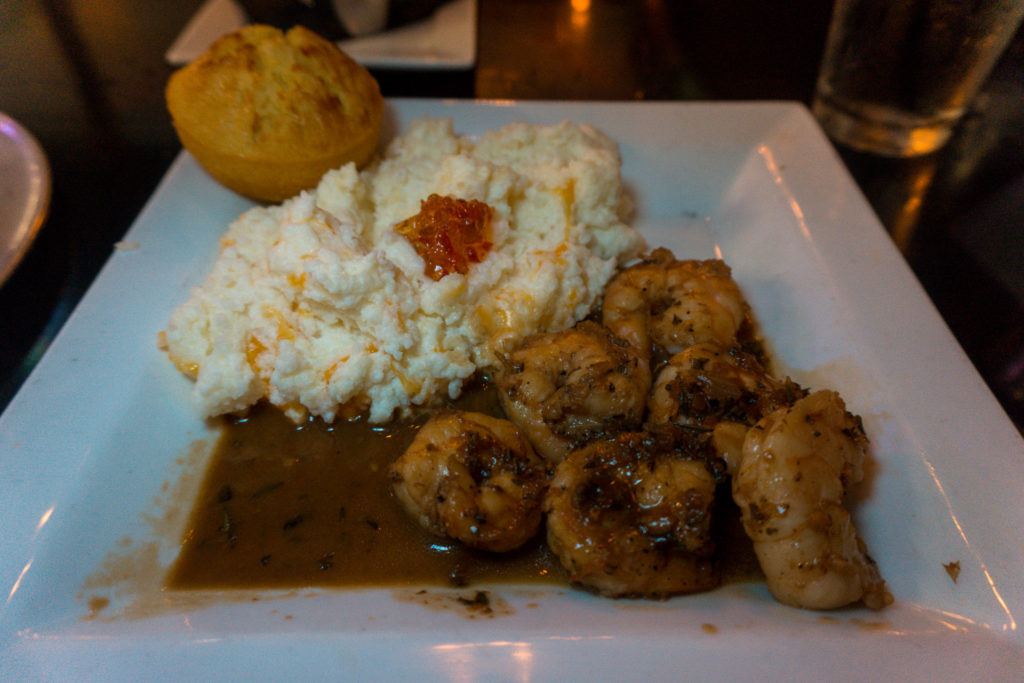 Foster's Pint & Place is Northwest Arkansas' biggest pub with 82 beers on tap, weekly trivia, and diverse menu of comfort foods like their cheesy shrimp and grits.
Location: 2001 S. Bellview Rd. Suite 2, Rogers
Hours: Monday-Thursday 4pm-10pm, Friday 3pm-11pm, Saturday 11am-11pm, Closed Sundays
---
The Hive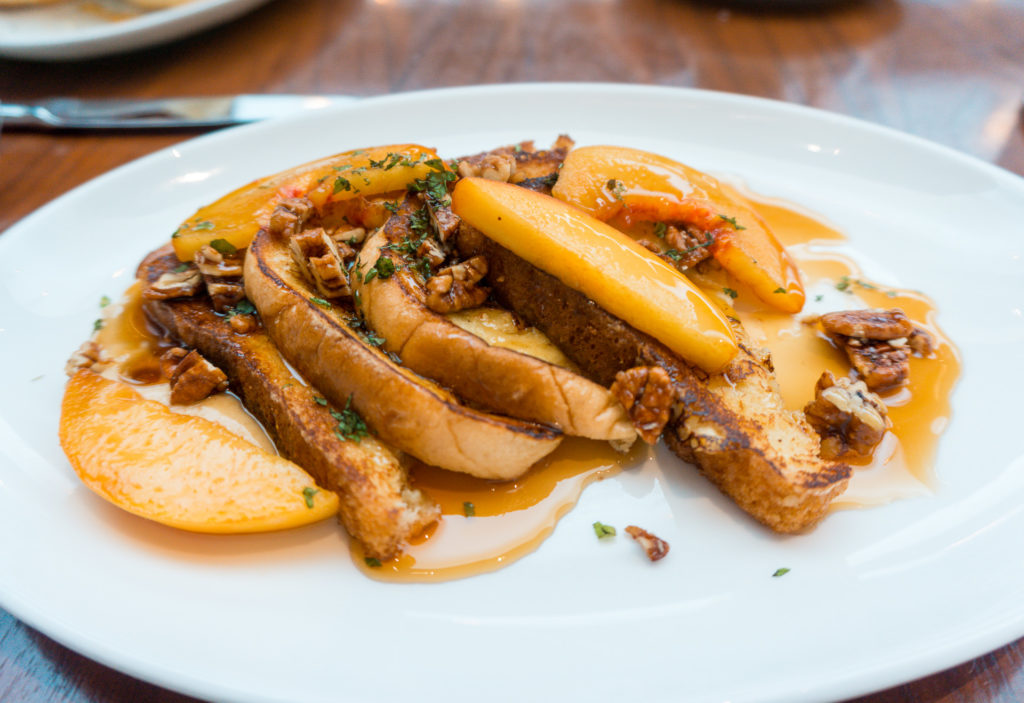 The Hive, led by Chef Matthew McClure, is the perfect spot for any meal or a late-night cocktail. Check out their Saturday morning brunch and enjoy entrées like the BMF Chicken on a Biscuit pared with perfectly seasoned skillet potatoes, the Stone Fruit French Toast with bourbon peaches and candied pecans, and signature refresher beverages like the Farmer's Tan with notes of watermelon, grapefruit, lime & mint. Regardless of your entrée choices, your taste buds are sure to be singing after enjoying a meal at The Hive.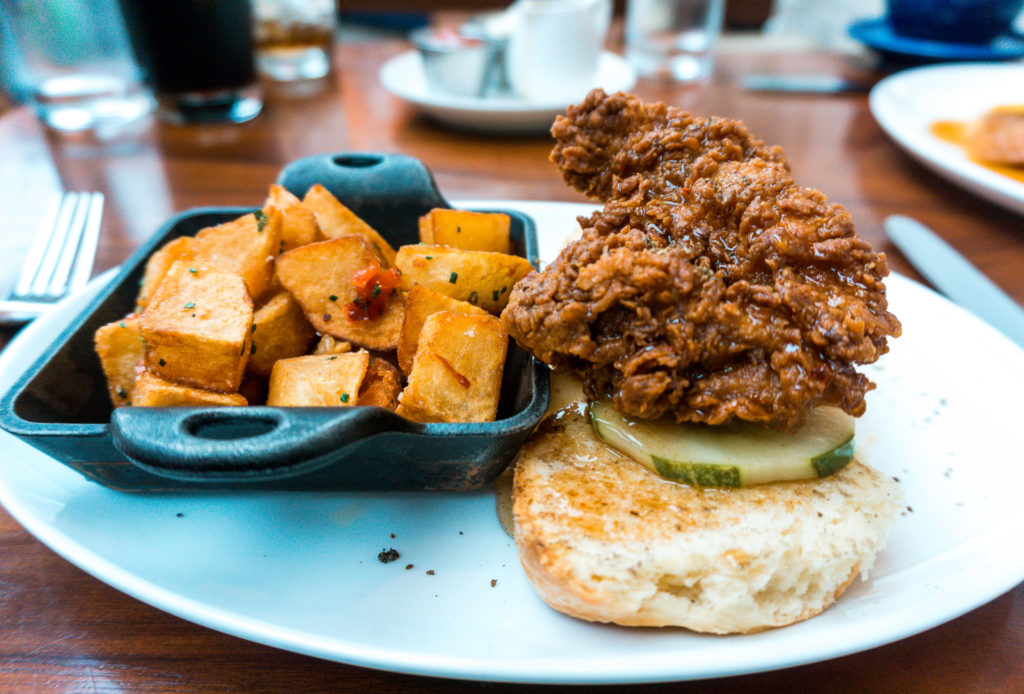 Location: 200 NE A St, Bentonville
Hours: Hours vary for breakfast, brunch, lunch, and dinner
---
Table Mesa Bistro
Table Mesa offers modern Latin cuisine with fresh ingredients and a varied menu full of flavor all surrounded by a terrific ambiance with reclaimed wood floors, brick walls, comfy bar seating, and subtle lighting.
Location: 108 E Central Ave #10, Bentonville
Hours: Monday-Thursday: 11am-9pm, Friday & Saturday: 9am-9:30pm, Closed Sundays
---
Tavola Trattoria
Tavola Trattoria is a trendy Italian restaurant in a loud, lively environment that provides an exceptional wine menu, assorted menu options, and mouthwatering tiramisu.

Location: 108 SE A St, Bentonville
Hours: Sunday 10:30am-8pm, Monday-Thursday 11am-9pm, Friday & Saturday 11am-9:30pm
---
Sassy's Red House
We brag about the BBQ, but we can also brag about the portions and prices! At Sassy's Red House the catfish is perfectly battered, smoked chicken has the perfect flavor, and the ribs alone are enough to make to come back. Not to mention their side options are delicious and large.
Hours: Sunday: 11am-9pm, Monday-Thursday: 11am-10pm, Friday & Saturday: 11am-11pm
Location: 708 N College Ave, Fayetteville
---
Tacos 4 Life
Their tacos are delicious but their mission will make you go all the more. Tacos 4 Life donates one meal for every meal purchased to Feed My Starving Children, a non-profit that helps provide meals for children suffering from malnutrition in 60 different countries across the world. We especially like the buttermilk fried chicken and grilled shrimp tacos.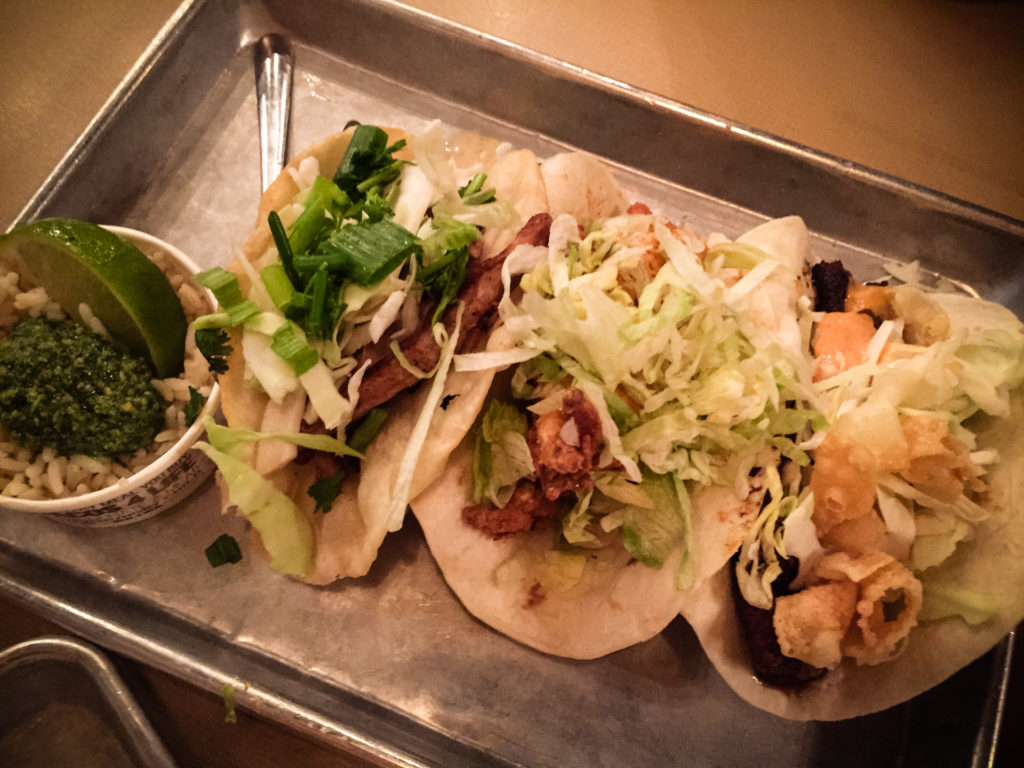 Hours: Monday-Thursday: 11am-9pm, Friday & Saturday: 11am-10pm, Closed Sundays
Location: Tacos 4 Life is located all over northwest Arkansas!
---
Hammontree's Grilled Cheese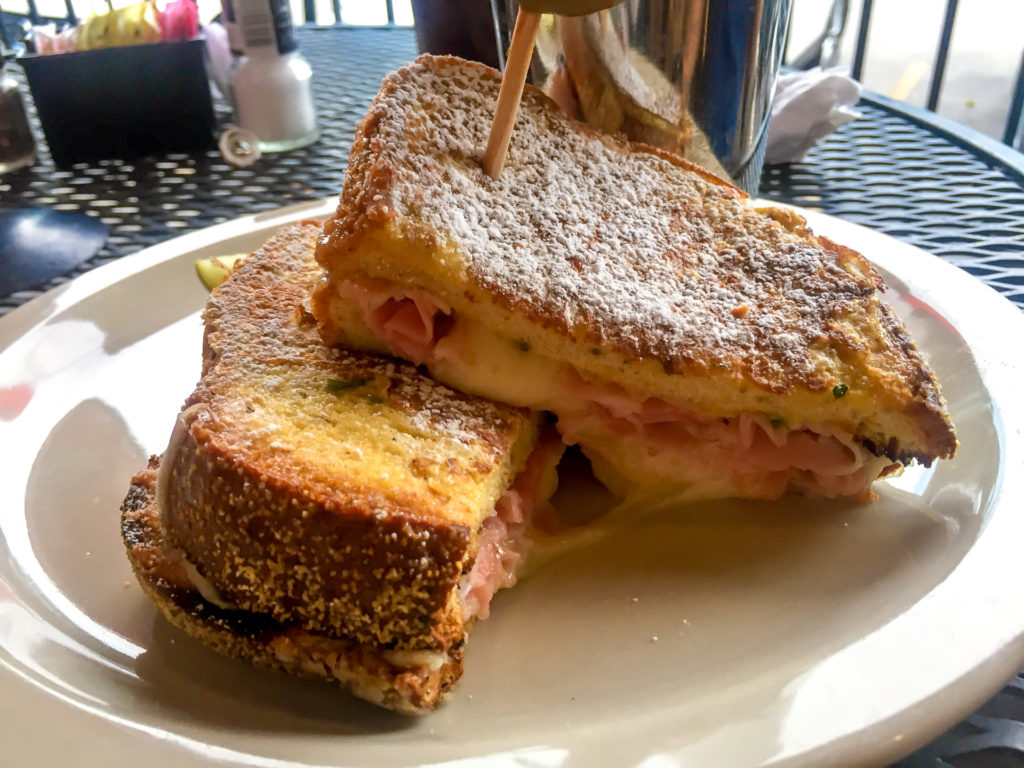 This isn't your mama's grilled cheese. At Hammontrees you can find tons of adult grilled cheese options. We loved it so much we went back three times in a month! Our recommendations include their sweet potato fries with avocado ranch dipping sauce, Brie's Company – a grilled cheese made with brie, gouda, grilled apple, and fig jam, and the Ozark Monte Cristo with pit-smoked ham, Swiss and Havarti cheeses, and french toast style bread.
For more savory options try Where The Wild Things Are a mushroom and goat cheese sandwich or the Pig Sooie with BBQ pulled pork, smoked bacon, and their house cheese. Okay, that's it! We're ready for another. 😉
Hours: Monday-Thursday: 11am-9:30pm, Friday & Saturday: 11am-10pm, Closed Sundays
Location: 326 N West Ave #8, Fayetteville (There is also a location in Rogers)
---
Stone Mill Cafe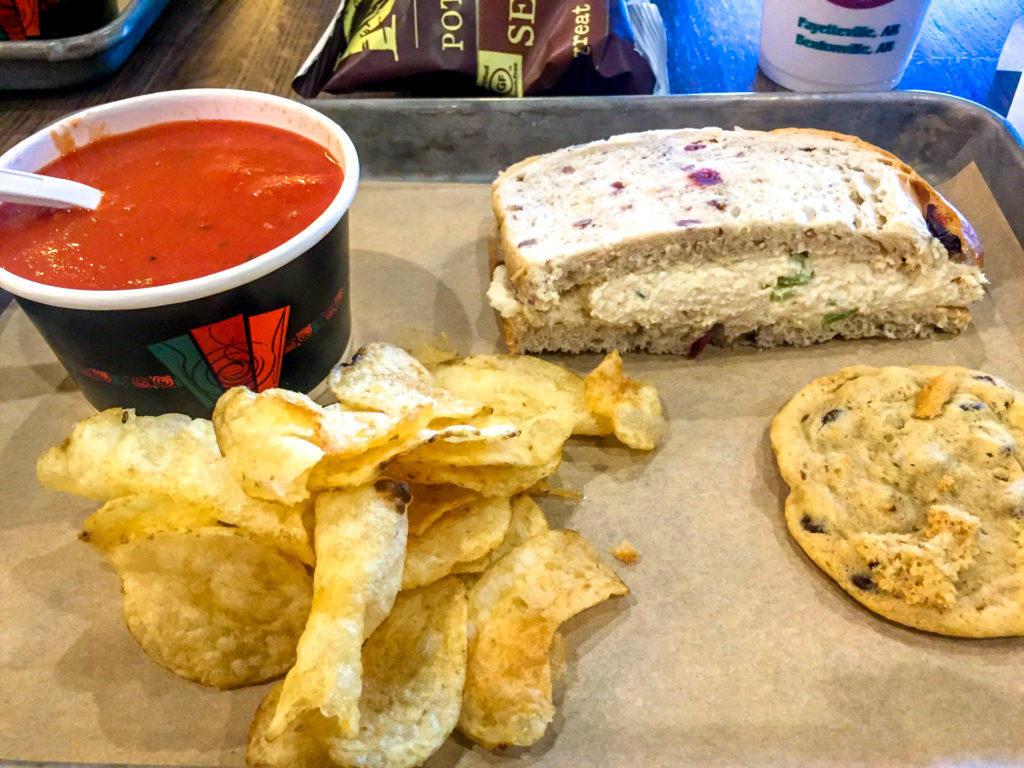 Stone Mill Cafe like a local's Panera Bread Co. It has delicious homemade loaves of bread, soups, sandwiches, and salads. Each meal or combo comes with your choice of side and a complimentary cookie!
Hours: Monday-Friday 7am-6pm, Saturday 7am-4pm, Closed Sundays
Location: 2903 S Walton Blvd, Bentonville
---
Coffee Shops & Desserts in Northwest Arkansas
Onyx Coffee Lab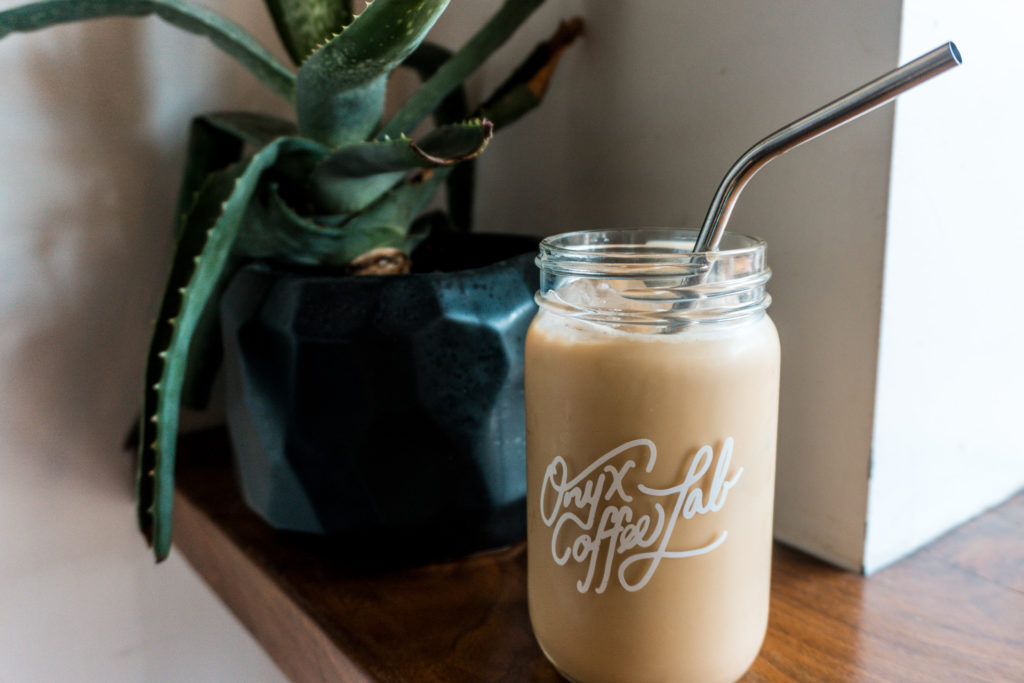 Onyx Coffee Lab has popped up all over Northwest Arkansas and we're not mad about it. Step into a cozy yet posh coffee environment to sip on some high-quality espresso while working, socializing, or relaxing.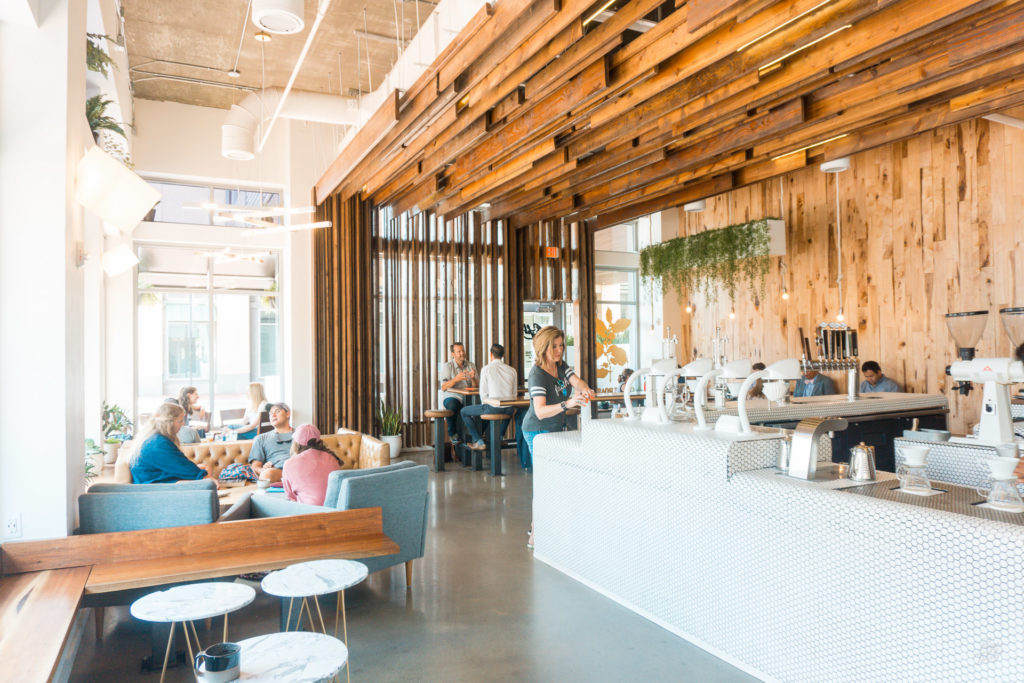 Location: 72710, 100 NW 2nd St #106, Bentonville (other locations available in northwest Arkansas too)
Hours: Sunday: 7am-6pm, Monday-Saturday: 6:30am-9pm
---
Alchemy Macarons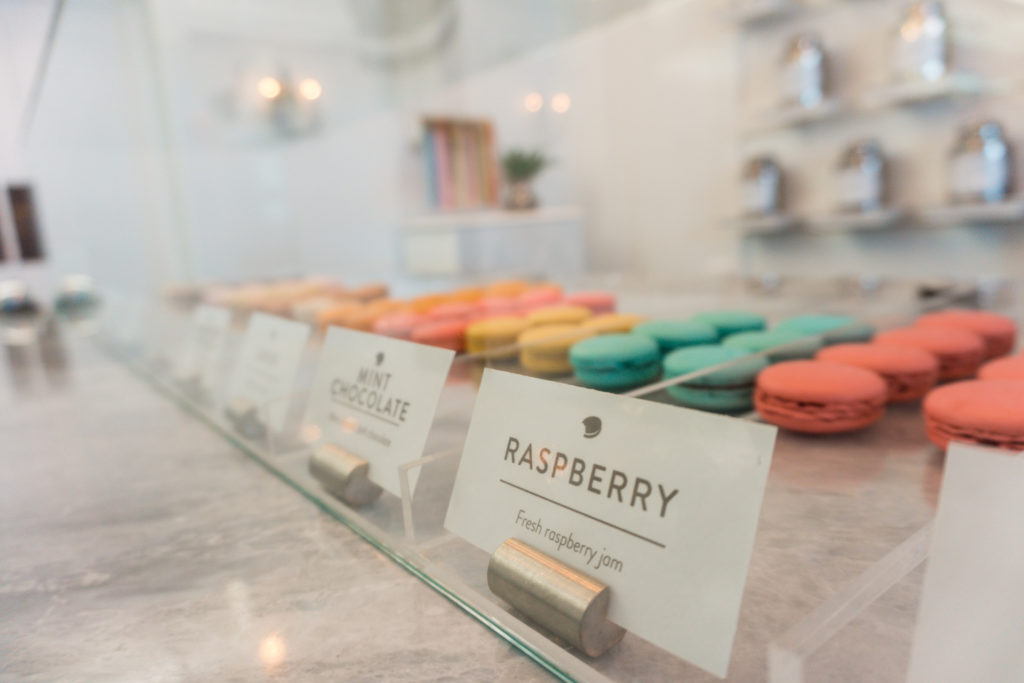 Macarons have recently become more popular in the States lately, and Alchemy Macarons is a must add to your list of things to do in northwest Arkansas. These melt-in-your-mouth French macarons are in 15 different flavors and handmade with care every day. If you haven't had a macaron yet, let this be your first one!
Hours: Tuesday-Friday: 11am-6pm, Saturday: 10am-6pm, Closed Sunday & Monday
Location: 112 W Center St #130, Fayetteville
---
Like this post? Save it on Pinterest!